French goat's cheese mini-log & olive muffins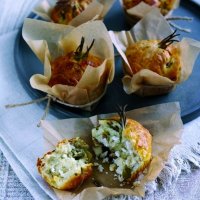 Savoury little baked muffins, with goat's cheese mini log, green olives and rosemary
Preparation: 20 mins
Cooking: 20 mins
Serves: 12
What you need:
75g mild ripe French goat's cheese mini-log (rind removed)
275g plain flour
1 tbsp baking powder
2 large eggs
250mls milk
1 tsp salt
50g chopped pitted green olives
2 tsp chopped rosemary, plus a little extra for garnish
What you do:
Pre-heat the oven to gas mark 6, 400°F (200°C) while you make the basic muffin mixture.
Sift the flour, baking powder and salt into a large bowl.
Beat one egg and whisk it together with the milk.
Fold the mix into the flour.
Add the crumbled French goat's cheese mini-log, chopped olives and chopped rosemary.
Arrange you muffin cases in a tray and spoon in the mixture to the top of each case.
Beat the other egg and gently brush the top of each muffin. Garnish with a small sprig of rosemary.
Bake for about 20 minutes, or until well risen and golden.
Remove the muffins from the tins and leave to rest for a few minutes before eating.
Cook's tip:
For a light and airy muffin, don't overmix the batter and gently fold in the goat's cheese and olives. Experiment with the ingredients by swapping the olives and rosemary for sun dried tomato amd black olives or for caramelised onion.
This page can be found at: http://secretsauce.co.uk/vegetarian/goats-cheese-recipes/french-goats-cheese-mini-log-and-olive-muffin/
A short link can also be used: http://bit.ly/IiAWtH
French goat's cheese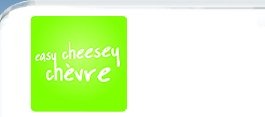 Award-winning chef Sophie Wright is the French goat's cheese Ambassador. She says, "I'm passionate about simple, practical recipes. French goat's cheese is so versatile and easy to use, as it moulds well with lots of food styles. Just pick up some chèvre at your local supermarket or local deli. It can be used to whip up mouthwatering meals at short notice. Ranging from mild to strong, creamy to hard, chèvre is great as a lunchtime treat or a sophisticated dinner party dish."
More from French goat's cheese

These delicious fish cakes have a secret molten fondant of creamy French goat's cheese in the middle, so no need to serve with a sauce!

Selles-Sur-Cher is a dry French goat's cheese packed with flavour which perfectly complements asparagus. This is a perfect starter for any occasion

A warm French goat's cheese salad with pear, endive and pomegranate seeds that's bright and colourful. Perfect as a side dish, starter, main course or lunch.
Popular in goats cheese recipes

Have you ever had savoury panna cotta? This one's a fantastic started and served with sweet and sour tomatoes and cashew biscuits

A delicious quick and easy open tart, perfect for a summer lunch or picnic

Sweet, earthy beetroot and tangy goats cheese are a classic combination.