Grilled pear, endive and Crottin de Chavignol toasts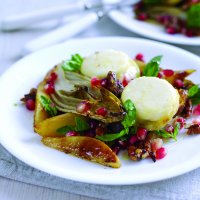 A warm French goat's cheese salad with pear, endive and pomegranate seeds that's bright and colourful. Perfect as a side dish, starter, main course or lunch.
Preparation: 20 mins
Cooking: 20 mins
Serves: 4
What you need:
4 Crottin de Chavignol (mild or mature depending on your taste)
100g walnuts pecans
2 firm pears
4 heads yellow endive
50g brown sugar
2 tbsp icing sugar
Juice and zest 1 orange
50mls olive oil
1/2 baguette
50mls white wine (optional)
2 tbsp pomegranate seeds (optional)
50g basil leaves
Runny honey to serve
What you do:
Heat a large non-stick pan on the stove and add in half the sugar.
When the sugar starts to brown and caramelise, add in the walnuts pecans.
Coat them well in the sugar them pour out on to a plate and allow to cool.
Cut the baguette into 8 thin slices.
Drizzle with a little olive oil, sprinkle with salt and grill, on one side only until golden.
Peel and cut the pears into halves.
Remove the core and then cut into 16 wedges.
Dust the pears in a little icing sugar and place onto a large flat non-stick tray.
Cut the endive in halves and place onto a flat oven to table tray or dish, cut side up with the pears.
Drizzle with olive oil, orange zest and half of the orange juice.
Place the toasted slices crispy side down onto the tray, with the endive and the pear.
Drizzle each slice with a teaspoon of white wine if you wish.
This gives a little extra flavour.
Cut each Crottin de Chavignol in half and place one, cut side up onto each of the baguette slices.
Drizzle with a little more olive oil, sprinkle with salt and pepper and place under the grill for 10 minutes.
Once the cheese has started to bubble and melt, the pear is slightly golden and the endive is crispy around the edges, remove from the grill.
To serve, scatter the walnuts pecans over the grilled salad, tear over a few basil leaves, sprinkle with the pomegranate seeds and drizzle with honey and olive oil.
Cook's tip:
If you like your cheese to have more flavour, wait until the Crottin de Chavignol is more mature and has started to turn bluish.
This page can be found at: http://secretsauce.co.uk/vegetarian/goats-cheese-recipes/pear-endive-and-crottin-de-chavignol-toasts/
A short link can also be used: http://bit.ly/wJi8F1
French goat's cheese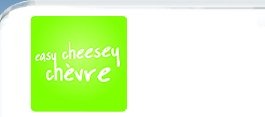 Award-winning chef Sophie Wright is the French goat's cheese Ambassador. She says, "I'm passionate about simple, practical recipes. French goat's cheese is so versatile and easy to use, as it moulds well with lots of food styles. Just pick up some chèvre at your local supermarket or local deli. It can be used to whip up mouthwatering meals at short notice. Ranging from mild to strong, creamy to hard, chèvre is great as a lunchtime treat or a sophisticated dinner party dish."
More from French goat's cheese

These delicious fish cakes have a secret molten fondant of creamy French goat's cheese in the middle, so no need to serve with a sauce!

Selles-Sur-Cher is a dry French goat's cheese packed with flavour which perfectly complements asparagus. This is a perfect starter for any occasion

An alternative recipe for cauliflower cheese, using goat's cheese instead of Cheddar
Popular in goats cheese recipes

Have you ever had savoury panna cotta? This one's a fantastic started and served with sweet and sour tomatoes and cashew biscuits

A delicious quick and easy open tart, perfect for a summer lunch or picnic

Sweet, earthy beetroot and tangy goats cheese are a classic combination.