Asparagus with shallots, white wine and Selles-sur-Cher sauce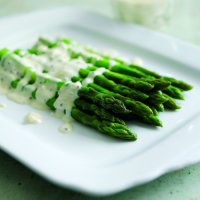 Selles-Sur-Cher is a dry French goat's cheese packed with flavour, so it stands out in just about any white sauce very well. The asparagus is perfectly complemented by this robust sauce. This is a perfect starter for any occasion. A little tip is to drizzle the asparagus with the sauce and then give it a little grilling to get a lovely finish.
Preparation: 10 mins
Cooking: 15 mins
Serves: 4
What you need:
150g Selles-Sur-Cher, rind removed
2 bunches asparagus, try to buy in season
2 shallots
25g butter
125mls white wine, oaky is better like a Chardonnay
250mls double cream
1 lemon
1 tbsp whole grain mustard
2 tsp olive oil
Salt and pepper to taste
What you do:
Finely chop the shallots. Place into a small saucepan on a low heat with the 25g of butter and sweat until soft and translucent. Add the white wine and allow to simmer and reduce by one third.
Once reduced, add in the double cream and reduce again by half with the lemon juice.
At this stage, season with black pepper, add in the mustard and crumble in the goat's cheese.
Mix well until all the cheese has melted. You may need to use a whisk to do this.
Set the sauce to one side while you cook the asparagus. Place a large pan of water on the stove and bring to the boil.
Gently peel the asparagus and when the water is boiling, drop them in for 3 minutes.
Drain and coat in a little olive oil, salt and pepper. Assemble the asparagus on your serving plates.
Warm through the sauce and drizzle over the top. Serve extra sauce on the side.
Cook's tip:
Selles-sur-Cher is available in good supermarket deli counters and specialist cheese shops.
This page can be found at: http://secretsauce.co.uk/vegetarian/asparagus-recipes/asparagus-with-shallots-and-goats-cheese/
A short link can also be used: http://bit.ly/dJ9nxj
French goat's cheese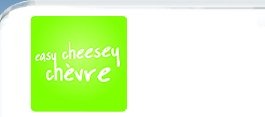 Award-winning chef Sophie Wright is the French goat's cheese Ambassador. She says, "I'm passionate about simple, practical recipes. French goat's cheese is so versatile and easy to use, as it moulds well with lots of food styles. Just pick up some chèvre at your local supermarket or local deli. It can be used to whip up mouthwatering meals at short notice. Ranging from mild to strong, creamy to hard, chèvre is great as a lunchtime treat or a sophisticated dinner party dish."
More from French goat's cheese

These delicious fish cakes have a secret molten fondant of creamy French goat's cheese in the middle, so no need to serve with a sauce!

A warm French goat's cheese salad with pear, endive and pomegranate seeds that's bright and colourful. Perfect as a side dish, starter, main course or lunch.

An alternative recipe for cauliflower cheese, using goat's cheese instead of Cheddar
Popular in asparagus recipes

Alex says: This makes a great meal for kids, the asparagus spears are fantastic finger food for them to pop their eggs with.'

This simple and speedy salad tastes sensational with garlic and rosemary marinated beetroot