Danish pastries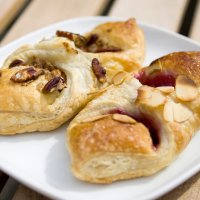 These simple to make Danish pastries have interchangeable fillings so swap between shapes, or make them all! We give quantities for 8 pastries which are made from 1 x 500g block of puff pastry - to make more
defrost both blocks of pastry!
What you need:

1x 500g block Jus-RolTM Puff pastry - thawed
Beaten egg white and caster sugar for glazing
Fillings
Pecan
75g/3oz. pecans - chopped
75g/ 3oz. demarara sugar
50g/2oz. butter softened
What you do:

Combine nuts and sugar in a bowl and cream together with butter
Almond and Apricot
What you need:
100g / 4oz ground almonds
50g/ 2oz butter - softened
75g/3oz caster sugar
80g apricot jam
What you do:
Combine almonds, butter and sugar in a bowl to a soft paste.
Handy tip: Alternatively use 100g made marzipan which is what we used with Morello cherry jam for some of the pastries.
Boats
Roll out pastry to an oblong approximately 16in x 8in trim sides and cut into eight equal squares.
Brush each with beaten egg white, divide pecan mixture between squares, placing down centre with corners top and bottom, fold in side corners to partially cover filling and overlap.
Brush with egg white and bake for 12-15 minutes
Windmills
Roll out pastry as for boats and cut into 8 squares.
With a sharp knife make cuts in towards centre at each corner, leaving a centre piece intact.
Place some almond paste on each centre, top with teaspoon of jam brush pastry lightly with beaten egg white and bring up each alternate corner to meet in middle.
Brush again and sprinkle with caster sugar and bake for 15-20 minutes.
Handy tip: To finish pastries very professionally scatter with a few flaked almonds along with the caster sugar just before baking.
This page can be found at: http://secretsauce.co.uk/cakes-desserts/pastry-recipes/danish-pastries/
A short link can also be used: http://bit.ly/gJIQkC
Jus-Rol

Jus-Rol is the UK's pioneering pastry company, committed to providing the highest quality chilled and frozen pastry products. The product range includes ready rolled pastry sheets in both puff and shortcrust pastry, pastry blocks, as well as individual puff pastry rounds, large shortcrust pastry cases and handy pie lids.
More from Jus-Rol

A delicious, fruity dessert - the best in comfort food and just mouth-watering served with a big dollop of creamy custard

This chicken, pesto and spinach tart looks so delicious it seems a shame to cut into it! But once you do, don't expect it to be there for long!

A delicious quick and easy open tart, perfect for a summer lunch or picnic
Popular in pastry recipes

A delicious, fruity dessert - the best in comfort food and just mouth-watering served with a big dollop of creamy custard