Radish, feta & baby leaves salad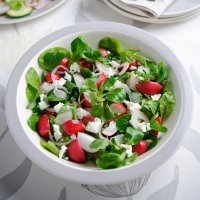 A tasty spring salad with a kick thanks to the ruby red radishes
Preparation: 10 mins
Cooking: n/a mins
Serves: 4
What you need:
2 tbsp olive oil
2 tbsp red wine vinegar
1 shallot, finely sliced
20 French breakfast radishes
1/2 bag lambs lettuce
1/2 bag Chard & Spinach salad or 1/2 bag of Red Leaf salad
150g feta cheese, crumbled into chunks
What you do:
Combine the oil, vinegar and shallot and season with salt and pepper. Quarter the radishes and toss with the lambs lettuce and Chard & Spinach or Red Leaf salad leaves.
In a large salad bowl toss the vegetables with the dressing then scatter over the feta.
Cook's tip:
Great on its own as a salad or stuffed into a pitta
This page can be found at: http://secretsauce.co.uk/vegetarian/feta-recipes/radish-feta-and-baby-leaves-salad/
A short link can also be used: http://bit.ly/dYMpbs
Love Radishes

Often thought of as just 'a bite on the side', the humble radish, with its crisp, crunchy texture and distinctive peppery bite, is a deliciously versatile snack or ingredient, perfect for adding a subtle kick to salads, sandwiches, stir fries and more.
More from Love Radishes

A delicious, healthy and quick snack or light lunch bursting with subtle flavours and brimming with colour!

A delicious Bloody Mary recipe complete with retro celery sticks and the requisite balance of fresh and bold flavours.

This beautiful and nutritious dish is inspired by the flavours of Asian cooking.
Popular in feta recipes

Alex says: 'This is the good King Edward's twist on the Greek filo pastry pie, Spanakopita.'

A healthy Mediterranean salad made with hearts of palm, an exotic vegetable harvested from the soft core of a palm tree

This delicious jacket potato topping is fresh, fruity and colourful - perfect for the warmer summer months.