Alex Mackay's potato, spinach and feta pie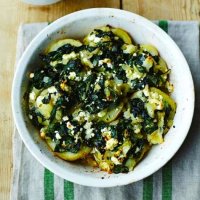 Alex says: 'This is the good King Edward's twist on the Greek filo pastry pie Spanakopita. I love a playful recipe, my pie is nestled into the potato and I serve it in a pie dish but there is no pastry in sight. Bags of spinach vary greatly in size so any that you have leftover you could serve as a side salad or wilt with some garlic to serve with the pies.'
What you need:
4 medium sized (approximately 180g) fluffy King Edward potatoes
2 medium onions, peeled and finely diced
4 large cloves of garlic, peeled and finely chopped or crushed
1 tsp fennel seeds or dried oregano (very different but both lovely)
3 tbsp water
1 tbsp extra virgin olive oil, plus a little for brushing the potatoes
300g spinach, washed and dried if necessary, sliced 2cm
120g feta cheese, cut or crumbled into tiny (1cm) bits
Salt and freshly ground black pepper
What you do:
Pre-heat your oven to 220C /Gas 6 / Position upper middle shelf.
Prick each of the King Edward potatoes three times with a fork. Put them onto a plate and cover them. Microwave the King Edwards on the highest setting for 10-15 minutes. The insides should be soft.
Next, make the spinach mixture. Get your biggest frying pan. Add the onion, garlic, fennel seeds or oregano, the water and olive oil. Sweat for 7-8 minutes until the onions are soft; add more water if you need to so that the onions don't fry. Add the sliced spinach, sauté over a high heat for 2 minutes until the spinach softens completely. Mix in the feta cheese and stir until it is melted enough to bind the spinach and onions. Take the pan off the heat.
Cut each King Edward in half. Scoop a tablespoonful of flesh from the centre of each. Add this flesh to the spinach mixture, squash and then stir it in well. Season to taste. Brush the flesh of each half King Edward with olive oil, then season with salt and pepper. Stuff the spinach mixture into and over your potatoes. Put them into a pie dish or just back into the large frying pan if it is oven proof.
Bake for 10 minutes. Serve.
Cook's tip:
This recipe can be prepared at least half a day ahead up to the point of baking. Just heat the stuffed King Edwards through in the microwave a little before you give them their final ten minutes in the oven.
The stuffed King Edwards re-heat very well. Make twice the recipe and have them again a day or two later.
This page can be found at: http://secretsauce.co.uk/vegetarian/feta-recipes/alex-mackays-potato-spinach-and-feta-pie/
A short link can also be used: http://bit.ly/1qCuYOC
Potato Council
British potatoes
are the ultimate taste sensation that have stood the test of time. They're great value for money, quick and easy to cook and provide a wealth of essential nutrients.
More from Potato Council

Alex says: 'This is simply yummy, as spicy as you fancy with the King Edwards catching a lovely lick of the chicken's roasting juices.'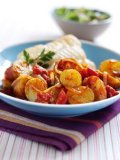 A delicious side dish to serve with any curry or Indian meal

Alex says: This makes a great meal for kids, the asparagus spears are fantastic finger food for them to pop their eggs with.'
Popular in feta recipes

This delicious jacket potato topping is fresh, fruity and colourful - perfect for the warmer summer months.

A healthy Mediterranean salad made with hearts of palm, an exotic vegetable harvested from the soft core of a palm tree

This mid-week family meal contains two of your five a day and tastes just as good for lunch the next day