Baked potato with feta and pomegranate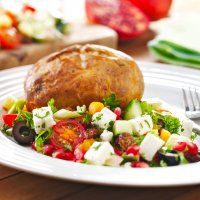 This delicious jacket potato topping is fresh, fruity and colourful - perfect for the warmer summer months.
Preparation: 5 mins
Cooking: 6 mins
Serves: 1
What you need:
1 Bannisters Farm Ready Baked Potato
50g feta cheese, diced
1 tbsp. lemon juice
Seeds from a pomegranate
25g dried apricot pieces
1/2 cucumber, diced
6 black pitted olives, halved
1 spring onion, chopped
6 cherry tomatoes, halved
1tbsp. raisins
Handful of parsley, chopped
What you do:
Mix all the filling ingredients in a bowl, and serve on the baked potato.
This page can be found at: http://secretsauce.co.uk/vegetarian/feta-recipes/baked-potato-with-feta-and-pomegranate/
A short link can also be used: http://bit.ly/NievbK
Bannisters' Farm
The Bannisters' Farm range is brought to you by the Bannister family, a Yorkshire farming family whose farming roots go back 100 years. They have been supplying the supermarket freezer aisle with delicious, healthy frozen baked potatoes which can be microwaved in minutes since 2007. They taste exactly as a traditionally baked jacket potato should: tasty, baked skin and a delicious soft, fluffy middle.
More from Bannisters' Farm

This spicy chicken recipe adds a tasty kick to a jacket potato
Popular in feta recipes

Alex says: 'This is the good King Edward's twist on the Greek filo pastry pie, Spanakopita.'

A healthy Mediterranean salad made with hearts of palm, an exotic vegetable harvested from the soft core of a palm tree

This mid-week family meal contains two of your five a day and tastes just as good for lunch the next day