Thai yellow vegetable curry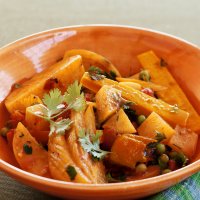 Making a curry from scratch can be time-consuming, so try this easy yellow curry recipe with butternut squash and green peas

Serves: 2-3 servings
Preparation time: 5 minutes
Cooking time: 10-15 minutes
122 calories / 8.1g fat per serving
What you need:
1 tbsp vegetable oil
1 small Butternut squash - 2cm diced
1 jar Loyd Grossman Thai Yellow Curry sauce
100g Green peas (fresh or frozen)
1 small Red pepper - 2cm diced
Fresh coriander leaves for garnish
What you do:
Heat the oil in a pan and fry the butternut squash on medium heat for 3 minutes.
Stir in the Loyd Grossman Thai Yellow Curry Sauce to the pan, bring it to the boil. Reduce the heat to low and let simmer for 5 minutes or until the squash is just firmed.
Add in the red pepper pieces and green peas, and simmer for further 2 minutes.
Remove from heat, garnish with fresh coriander leaves and serve immediately.
Handy tips:
Other root vegetables can be used - Pumpkin, roasted parsnip and carrot.
This page can be found at: http://secretsauce.co.uk/vegetarian/curry-recipes/thai-vegetable-yellow-curry/
A short link can also be used: http://bit.ly/fF9kpP
Loyd Grossman

Try Loyd Grossman's deliciously tasty food range, including pour over sauces, soups, pasta and breads, for premium quality and inspired variety.
More from Loyd Grossman

With hardly any preparation required, this pasta dish delivers exactly what it says it will, it's quick and delicious!

This fresh seafood and spicy chorizo paella cooked with a rich tomato and basil sauce makes a perfect one-pot dinner to share alfresco.

A fusion of juicy tomatoes, fresh cream, natural yoghurt with aromatic spices and a hint of honey served with king prawns
Popular in curry recipes

In the mid 1970s, curry sauce became a popular accompaniment served in fish and chip shops. Why not rediscover its super fruity flavour by making your own at home? It's the perfect partner for warm, comforting chips

Why not start the school year with some new, quick and healthy family recipes, like this one?

A fantastic vegetarian curry that's straightforward to make and full of flavour - just make some pilau rice and serve