Wholesome vegetable curry with red pepper, sweet potato & peas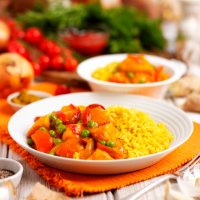 Why not start the school year with some new, quick and healthy family recipes, like this one? Created for the Uncle Ben's 'Back to School Buddy' campaign. All Uncle Ben's sauces include real, wholesome ingredients and contain no artificial colours, flavours or preservatives. Uncle Ben's sauces are packed with chunky vegetables like tomatoes, carrots, bamboo shoots, peppers and onions.
Preparation: 2 mins
Cooking: 8 mins
Serves: 4
What you need:
500g jar Uncle Ben's Medium Curry sauce
2 250g pouches of Uncle Ben's Express Pilau rice
2 large brown skinned sweet potatoes, peeled and cut into chunks
1 large red pepper, deseeded, cored and cut into chunks
150g frozen peas
What you do:
Cook the sweet potato in a pan of boiling water for 8 minutes until just tender
Meanwhile, place the Uncle Ben's Medium Curry sauce, 75ml water, red pepper and the peas in a saucepan and simmer for 10 minutes
Drain the sweet potato and stir into the curry sauce
Heat up two pouches of Uncle Ben's Express Pilau rice according to the instructions and serve together
Handy cook's tip:
This recipe also works well with any other of your favourite vegetables. Use butternut squash, potato, courgette and yellow peppers to give a different kind of flavour
This page can be found at: http://secretsauce.co.uk/vegetarian/curry-recipes/vegetable-curry-with-red-pepper-sweet-potato/
A short link can also be used: http://bit.ly/gqvt7N
Uncle Ben's

Uncle Ben's chefs have spent years developing a range of products that bring the flavours of the world to mealtimes. The range includes perfect rice, every time, the subtle flavours of the Orient, a Mexican Fiesta, a taste of Indian and a fantastic Thai range.
More from Uncle Ben's

This easy-to-make tasty meal is really healthy - helping you towards your 5-a-day. Make it with beef mince, or choose Quorn mince if you're vegetarian.

A family favourite, learn how to cook it up in minutes!

Make a tasty treat for Bonfire Night (and beyond!) with this easy solution for a fun family supper.
Popular in curry recipes

In the mid 1970s, curry sauce became a popular accompaniment served in fish and chip shops. Why not rediscover its super fruity flavour by making your own at home? It's the perfect partner for warm, comforting chips

A fantastic vegetarian curry that's straightforward to make and full of flavour - just make some pilau rice and serve

Making a curry from scratch can be time-consuming, so try this easy yellow curry recipe with butternut squash and green peas