Quick & delicious pasta bake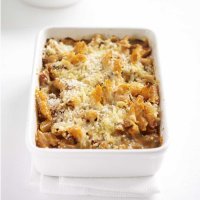 With hardly any preparation required, this pasta dish delivers exactly what it says it will, it's quick and delicious!
What you need:
1 jar Loyd Grossman Al Forno Creamy Tomato, Spinach & Ricotta Pasta Bake Sauce
150g penne pasta (or any short dry pasta)
70g of grated cheese (mozzarella or mild cheddar work best)
Handful of dry breadcrumbs, optional
What you do:
Preheat oven to 200C/Fan 180C.
Use spoon to empty the Loyd Grossman Sauce into 1.5L shallow ovenproof dish.
Add 150g penne pasta (or any short dry pasta)and 300ml water
Stir well and bake uncovered for 25 minutes.
Remove from oven, stir well and top with grated cheese.
Optional: Sprinkle breadcrumbs for a lovely crispy finish
Bake for a final 10 minutes.
Enjoy on its own or with a side of salad or grilled meat.
This page can be found at: http://secretsauce.co.uk/pasta-rice/penne-recipes/quick-and-delicious-pasta-bake/
A short link can also be used: http://bit.ly/gV6GfC
Loyd Grossman

Try Loyd Grossman's deliciously tasty food range, including pour over sauces, soups, pasta and breads, for premium quality and inspired variety.
More from Loyd Grossman

This fresh seafood and spicy chorizo paella cooked with a rich tomato and basil sauce makes a perfect one-pot dinner to share alfresco.

A fusion of juicy tomatoes, fresh cream, natural yoghurt with aromatic spices and a hint of honey served with king prawns

Spicy king prawns marinated in madras curry sauce and grilled in the oven or on the BBQ for a lovely light summer supper or simple starter.
Popular in penne recipes

Salty parma ham with deliciously sweet asparagus makes a main course full of flavour and filling too

This cheesy meatball and pasta bake makes a great midweek meal, perfect for all the family. The natural, mild taste of Dutch Edam means this pasta dish is a winner with the kids. Just serve with a crisp green salad.

Pasta bakes are a great mid-week dinner because they're delicious, easy to cook and need hardly any preparation!