Tomato & herb risotto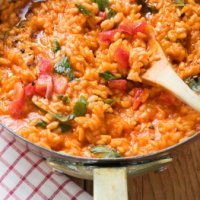 A healthy and filling meal perfect for the family that you don't have to stand over while you make it, just keep checking it's moist!
Serves: 2-3 adults
What you need:
Olive oil
½ Medium onion finely chopped
250g Risotto rice
2 tablespoons of chopped flat leaf parsley
Teaspoon full of chopped thyme leaves
350ml Stock
1 glass (125ml) White wine
1x350g Jar of Loyd Grossman Tomato and Basil Sauce
Freshly grated parmesan cheese
What you do:
Finely chop onion
Heat a little olive oil in a large heavy based saucepan.
Add the chopped onion.
Fry on a low to medium heat for 5 minutes until it is cooked but not browned.
In the meantime, mix the stock, chopped thyme and tomato and basil sauce in a saucepan and bring up to a low simmer next to the onion pan.
Add the rice to the onions and stir well for 1-2 minutes.
Add the wine to the rice and cook, continuing to stir over a medium heat.
Once almost all the liquid has been absorbed add a ladle of the sauce/stock and cook, stirring constantly.
When the liquid has been absorbed, add another ladle of the Loyd Grossman tomato and Basil Sauce mixture.
This should be repeated for approximately 18 minutes until all the liquid has been added and absorbed and the rice is cooked, but retains a little bite.
If after all the stock/sauce mix has been added and it is looking a little dry before the rice is cooked, simple add a little extra boiling stock or water.
Shortly before the rice is ready, stir through the chopped parsley.
To finish stir in a handful of Parmesan and serve.
This page can be found at: http://secretsauce.co.uk/vegetarian/risotto-recipes/tomato-and-herb-risotto/
A short link can also be used: http://bit.ly/eUXWPa
Loyd Grossman

Try Loyd Grossman's deliciously tasty food range, including pour over sauces, soups, pasta and breads, for premium quality and inspired variety.
More from Loyd Grossman

With hardly any preparation required, this pasta dish delivers exactly what it says it will, it's quick and delicious!

This fresh seafood and spicy chorizo paella cooked with a rich tomato and basil sauce makes a perfect one-pot dinner to share alfresco.

A fusion of juicy tomatoes, fresh cream, natural yoghurt with aromatic spices and a hint of honey served with king prawns
Popular in risotto recipes

Dutch Gouda adds a wonderfully rich flavour to this sweet and creamy dish. Perfect served with a slice of crusty bread.

Devised by celebrity chef Aldo Zilli, this mixed mushroom risotto costs under £1 per portion but doesn't compromise on taste!