Butternut squash tikka masala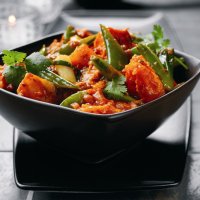 This is a classic Indian dish with all the essential flavours, try substituting the squash for marrow, spring onions, lamb or chicken
Serves: 4
What you need:
1 tbsp vegetable oil
1 tsp fine chopped ginger
1 butternut squash, chopped into cubes
20 sugar snaps, stringed and washed
2 spring onions, peeled, washed and cut into 4cm baton
150ml Seeds of Change Tikka Masala sauce
1 tbsp fine chopped coriander leaves
What you do:
Heat the oil in pan, add chopped ginger and sauté for 30 seconds, then add sugar snaps and spring onion and sauté for 2 minutes.
Add diced squash and sauté for 3-4 minutes on low heat and add sauce and simmer for 5 minutes or until the squash is cooked.
Sprinkle with chopped coriander leaves and serve with warm bread or rice.
This page can be found at: http://secretsauce.co.uk/vegetarian/curry-recipes/butternut-squash-tikka-masala/
A short link can also be used: http://bit.ly/f2ZNGL
Seeds of Change

Seeds of Change's aim is to provide a range of good, honest food, full of taste and flavour that is also good for you. The range of delicious sauces, soups, pasta and cereal bars is organic and free of artificial additives and preservatives.
More from Seeds of Change

Creamy, delicious and filling - an easy and satisfying meal for the family

This is a great one-pot dish. Look out for good quality meat in your supermarket

This delicious rhubarb crumble recipe was created by gardener and celebrity Kim Wilde
Popular in curry recipes

In the mid 1970s, curry sauce became a popular accompaniment served in fish and chip shops. Why not rediscover its super fruity flavour by making your own at home? It's the perfect partner for warm, comforting chips

Why not start the school year with some new, quick and healthy family recipes, like this one?

A fantastic vegetarian curry that's straightforward to make and full of flavour - just make some pilau rice and serve