Mini Oriental spring wraps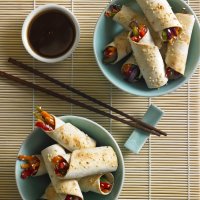 The ideal recipe for any selection of leftover veg you may have!
Preparation: 10 mins
Cooking: 15 mins
Serves: 4
What you need:
8 Mission Mini Wheat & White Wraps
1 tbsp olive oil, plus extra for brushing
125g leftover cooked carrot
125g leftover cooked red onion
150g leftover cooked red and green pepper
1 small red chilli, de-seeded, finely chopped
2cm fresh root ginger, peeled and finely chopped
1 garlic clove, finely chopped
25g coriander leaves, roughly chopped
2 tbsp sesame seeds, lightly toasted
Dipping sauce
1 tbsp soy sauce
1 tbsp sweet chilli sauce
2 tsp sesame seed oil
1 tbsp rice wine vinegar
What you do:
Cut the carrot and pepper into lengths that resemble long, thin matchsticks, and then slice the onion thinly
Heat the oil in a large pan, then add the chilli, garlic and ginger and cook for a few minutes carefully without burning. Add the carrots, peppers and onions and stir together so that the vegetables are coated. Lower the heat and allow to warm through for a further five minutes. Mix in the coriander and 1 tablespoon sesame seeds
Using scissors or a knife cut each tortilla in half and microwave for about 20 seconds to soften. Divide the mixture onto each tortilla half, (you can save any pan juices for the dipping sauce) and roll up neat and firmly. Preheat the grill and brush each wrap with a little olive oil and sprinkle with the remaining sesame seeds. Place under the heat until slightly golden and crisp
For the dipping sauce, mix together all the ingredients including any saved pan juices. Serve with the vegetable wraps for dipping!
This page can be found at: http://secretsauce.co.uk/vegetarian/chinese-recipes/mini-oriental-spring-wraps/
A short link can also be used: http://bit.ly/g8plvg
Mission Foods

If you're looking for the authentic Mexican-American taste of tortillas, wraps and tortilla chips, you can't make a better choice than Mission Foods
More from Mission Foods

These are a perfect alternative to a tradtional sandwich for kids during the summer holidays!

A tasty warm pitta option, best served with a light greek salad.

These energy wraps make a great lunch - they're packed with slow-releasing carbohydrates and energy-releasing B vitamins to keep you going longer
Popular in chinese recipes

Great for parties, buffets, or as a starter, these fried vegetables are also brilliant for turning leftover vegetables into a delicious new dish!

This vegetable stir-fry just couldn't be easier to make - it's healthy and full of flavour and ready in 20 minutes

This tasty, vegetarian dish is ready in just 15 minutes and the cashew nuts give it an extra crunch