Vegetable & cashew nut pilaff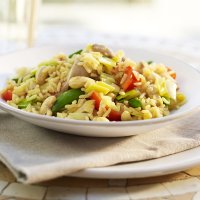 This tasty, vegetarian dish is ready in just 15 minutes and the cashew nuts give it an extra crunch
Serves: 2
Prep/cooking time: 15 minutes
What you need:
1/2 tbsp olive oil
1/2 red pepper, deseeded and cut into chunks
1 small leek (75g), halved and sliced
1 x 250g pack Uncle Ben's® Express Golden Vegetable Rice
75g (2 3/4 oz) oyster mushrooms
50g (1 3/4 oz) sugar snaps
2 tbsp cashew nuts
Dash of soy sauce
What you do:
Heat the oil in a wok or frying pan. Stir-fry the red pepper and leek for 2-3 minutes.
Add the mushroom, sugar snaps and cashew nuts to the wok and stir-fry for another 2 minutes.
Meanwhile, microwave the rice according to the pack instructions.
Season with a splash of soy sauce (optional).
This page can be found at: http://secretsauce.co.uk/vegetarian/chinese-recipes/vegetable-cashew-pilaff/
A short link can also be used: http://bit.ly/eP8gVg
Uncle Ben's

Uncle Ben's chefs have spent years developing a range of products that bring the flavours of the world to mealtimes. The range includes perfect rice, every time, the subtle flavours of the Orient, a Mexican Fiesta, a taste of Indian and a fantastic Thai range.
More from Uncle Ben's

This easy-to-make tasty meal is really healthy - helping you towards your 5-a-day. Make it with beef mince, or choose Quorn mince if you're vegetarian.

A family favourite, learn how to cook it up in minutes!

Make a tasty treat for Bonfire Night (and beyond!) with this easy solution for a fun family supper.
Popular in chinese recipes

Great for parties, buffets, or as a starter, these fried vegetables are also brilliant for turning leftover vegetables into a delicious new dish!

This vegetable stir-fry just couldn't be easier to make - it's healthy and full of flavour and ready in 20 minutes

The ideal recipe for any selection of leftover veg you may have!