Fried vegetables with sweet chilli dipping sauce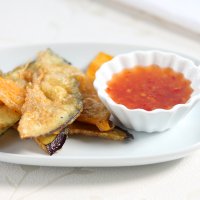 Great for parties, buffets, or as a starter, these fried vegetables are also brilliant for turning leftover vegetables into a delicious new dish!
Serves: 4
What you need:
3 large eggs
1 aubergine, halved lengthways and cut into long, thin slices
½ small butternut squash, peeled, de-seeded and cut into long lengths
2 courgettes (preferably both green and yellow varieties), trimmed and cut
into long thin slices
100ml vegetable oil
100ml Blue Dragon Thai Sweet Chilli Squeezy Sauce
Salt
Black pepper
What you do:
Beat the eggs in a large bowl. Add the aubergine, butternut squash and courgette slices. Toss the vegetables until coated all over in the egg, then season with salt and pepper.
Heat the oil in a wok. When it is hot, add the vegetables one strip at a time, making sure that each strip has plenty of egg clinging to it. Do not cook more than eight strips at a time or the oil will cool down too much.
As each strip turns golden and is cooked, lift it out and drain on kitchen paper. Keep hot while cooking the remaining vegetables.
Transfer to a warmed dish and serve with Blue Dragon Thai Sweet Chilli Squeezy Sauce.
This page can be found at: http://secretsauce.co.uk/vegetarian/chinese-recipes/fried-vegetables-with-sweet-chilli-dipping-sauce/
A short link can also be used: http://bit.ly/fAoVlR
Blue Dragon

Blue Dragon was created over 30 years ago to help British people create authentic Chinese dishes at home. Since then it's gone truly pan-Asian, with ingredients to help create delicious dishes from Thailand, Japan and Vietnam and expanding the Chinese range.
More from Blue Dragon

Cocktail sausages cooked in honey are popular finger food, but wait until you've tried these sweet chilli versions

Isn't curry Indian? Not in this recipe - it's Chinese and delicious with egg fried rice

A delicious and unusual recipe, this sticky plum and duck stir-fry is amazing served with beetroot crisps and pistachios
Popular in chinese recipes

This vegetable stir-fry just couldn't be easier to make - it's healthy and full of flavour and ready in 20 minutes

This tasty, vegetarian dish is ready in just 15 minutes and the cashew nuts give it an extra crunch

The ideal recipe for any selection of leftover veg you may have!