Sticky plum and duck stir fry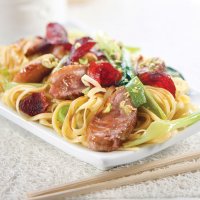 A delicious and unusual recipe, this sticky plum and duck stir-fry is amazing served with beetroot crisps and pistachios
Serves: 4
What you need:
3 small beetroot, peeled and finely sliced on the grain into circles
Oil, for shallow frying
3-4 Duck breasts, skin-on
4-5 Blue Dragon egg noodle nests
2 tsp fresh root ginger, peeled and finely diced
2 cloves garlic, peeled and finely diced
8 spring onions, cut and sliced into 6cm lengths
4 heads bok choy, pulled apart or sliced
2 Blue Dragon Sticky plum premium sachets stir fry sauce
A handful chopped pistachio nuts
What you do:
Heat the oil in a pan or wok to around 360 degrees. Take the very thinly sliced beetroot, pat dry with kitchen paper, then deep fry until crisp. Remove carefully with a spatula and drain on kitchen paper.
Take the duck breasts; pat the skin dry with a paper towel and season. Place skin side down in a hot pan and cook for 3-4 minutes. When golden brown and crispy, turn over and repeat with the bottom side. When brown, remove them from the pan and place covered by foil in pre-heated oven at 375 degrees, for 4-8 minutes or until just pink in the centre. When cooked, remove and rest covered with foil. Turn off the oven. Then slice the duck into evenly sized pieces.
Meanwhile, take the noodle nests and par-cook them in boiling water until al-dente. Drain.
Now the oven is turned off, take a baking sheet, and on it place the beetroot crisps evenly spaced, and place in the oven to dry out briefly.
In a wok or large frying pan, take a little oil and fry the garlic and ginger until the aroma are released. Add the spring onions and bok choy and stir fry for 1-2 minutes.
Then add the sticky plum stir fry sauce and noodles. Toss together and cook until heated through.
Remove the beetroot crisps from the oven.
Remove the stir fry from the heat and mix in the duck. Serve on plates and garnish with the beetroot crisps and chopped pistachios.
This page can be found at: http://secretsauce.co.uk/pasta-rice/duck-recipes/sticky-plum-and-duck-stir-fry/
A short link can also be used: http://bit.ly/g5tfi7
Skandi Candle
Pure soy wax candles in Flack Fig & Vetiver or Lemon fragrances - perfect for any dinner party or romantic night in.
Blue Dragon

Blue Dragon was created over 30 years ago to help British people create authentic Chinese dishes at home. Since then it's gone truly pan-Asian, with ingredients to help create delicious dishes from Thailand, Japan and Vietnam and expanding the Chinese range.
More from Blue Dragon

Cocktail sausages cooked in honey are popular finger food, but wait until you've tried these sweet chilli versions

Isn't curry Indian? Not in this recipe - it's Chinese and delicious with egg fried rice

A really tasty dish that works equally well with beef, pork or fish