Chinese curry & egg fried rice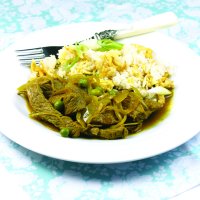 Isn't curry Indian? Not in this recipe - it's Chinese and delicious with egg fried rice
What you need:
1 tbsp vegetable oil
1/2 jar of Blue Dragon Chinese Curry Paste
1 small onion, sliced thinly
100 ml chicken stock
100 ml water
100g fresh or frozen peas
500g thinly sliced sirloin steak
For the rice:
2 tbsp oil
2 eggs
2 tbsp Blue Dragon Light Soy Sauce
200g cooked cold rice
2 spring onions sliced
Blue Dragon Sesame Oil, to taste
What you do:
Heat the oil in a pan and fry the Blue Dragon Chinese Curry Paste and sliced onion for two minutes.
Add the stock and water and heat through until simmering
Simmer for 5 minutes and then add the peas and steak and simmer for a further 5 minutes
Serve with egg fried rice - to make this heat 2 tbsp oil in a wok and heat until almost smoking.

Rotate the oil in a wok until it is coated in a thin film. Add 2 beaten eggs seasoned with Blue Dragon Light Soy Sauce and rotate until a thin omelette is formed. Cook until it is set.

Using a spatula, break the omelette into little pieces. Add the rice and a touch more oil if needed.

Fry the rice for 3-4 minutes, turning continuously.

Finally, just before serving, add the spring onions and season to taste with Blue Dragon Light Soy Sauce and Blue Dragon Sesame Oil.
This page can be found at: http://secretsauce.co.uk/meat-poultry/chinese-recipes/chinese-curry-and-egg-fried-rice/
A short link can also be used: http://bit.ly/hTsdsh
Blue Dragon

Blue Dragon was created over 30 years ago to help British people create authentic Chinese dishes at home. Since then it's gone truly pan-Asian, with ingredients to help create delicious dishes from Thailand, Japan and Vietnam and expanding the Chinese range.
More from Blue Dragon

Cocktail sausages cooked in honey are popular finger food, but wait until you've tried these sweet chilli versions

A delicious and unusual recipe, this sticky plum and duck stir-fry is amazing served with beetroot crisps and pistachios

Katsu curry is a Japanese restaurant favourite consisting of crispy breaded chicken, pork or vegetables served on a bed of rice with a mild Japanese curry sauce
Popular in chinese recipes

A really tasty dish that works equally well with beef, pork or fish

Didn't think you could put a Chinese meal on the table in under half-an-hour? This beef in oyster sauce is a mid-week winner!

Celebrate Chinese New Year with this delicious stir-fry and if you have a cold, the honey, lemon and ginger should help kick that too!