Griddled aubergine stacks with tomato confetti sauce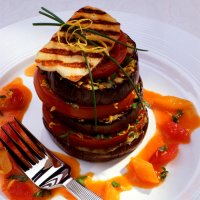 This recipe is completely dairy free, but if you like cheese these vegetable stacks are lovely topped with a slice of griddled Halloumi. The sauce should have lots of very little pieces of tomato and pepper pieces in it to form the "confetti"
Serves: 4
Vegan
What you need:
A little olive oil
1 large aubergine, cut into rings
2 beef tomatoes, skinned and cut into rings
1 lemon, zest only
few sprigs fresh sage
few sprigs fresh thyme
few fresh chives
salt and freshly ground black pepper
balsamic vinegar to taste
For the sauce:
15ml/1tbsp olive oil
1 small onion, peeled and finely chopped
1 clove garlic, crushed
225g/8oz fresh ripe full flavoured tomatoes, skinned and finely chopped
150ml/5 fl oz vegetarian white wine
1 yellow or red pepper, roasted, skin removed and cut into strips then across into diamonds
5ml/1tsp balsamic vinegar
To decorate chives or chive flowers
What to do:
First make the sauce. Heat the olive oil in a saucepan and fry the onion gently with the garlic. Add half the chopped tomatoes and white wine and cook for 5 minutes. Blend until smooth. Mix in the rest of the chopped tomatoes and pepper pieces and 1 tsp balsamic vinegar. Season to taste.
Brush the griddle with olive oil and cook the aubergine slices so that they are seared with stripes. Put on one side and keep warm.
Grill the beef tomato slices gently.
Chop and mix the lemon, sage, thyme and chives together and season well.
On individual serving plates layer the aubergine, tomato and then the herb mix and drizzle with a little balsamic vinegar. Repeat until all the layers are used up and top with a nicely striped aubergine slice and a sprinkling of the herb mixture. Drizzle tomato confetti sauce around the plate and decorate with chives or chive flowers. Serve warm.
This page can be found at: http://secretsauce.co.uk/vegetarian/aubergine-recipes/griddled-aubergine-stacks-tomato-confetti-sauce/
A short link can also be used: http://bit.ly/hwQ4Nf
Vegetarian Society

The Vegetarian Society is a registered charity committed to promoting the health, environmental and welfare benefits of a vegetarian diet.
More from Vegetarian Society

These Halloween snails look deliciously slimy. Who's going to be brave enough to take the first bite?

A fantastic ale and mushroom pie recipe perfect to warm you up when it's chilly outside and you want something tasty and filling

Need some get up and go in the morning? This smoothie is just what you need. Ready, steady...
Popular in aubergine recipes

These aubergine and mozzarella rolls are a lovely Mediterranean vegetarian dish perfect for eating in the sunshine, or a healthy salad indoors!

If you've got vegetarians over for dinner and no idea what to cook - this is an easy and delicious recipe

Caponata is a traditional Sicilian vegetable dish made a little easier to make with these ingredients