Spicy Caponata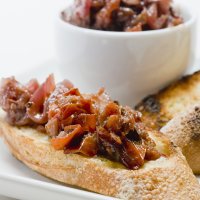 Caponata is a traditional Sicilian vegetable dish made a little easier to make with these ingredients
What you need:
1 Jar Loyd Grossman Island Inspirations Chilli and Pine Nut Sauce
Olive Oil
1 Medium Aubergine
100g Pitted Green Olives
20g Capers
1 Celery Heart (centre of a head of celery containing the leaves and tender thin stalks)
30ml Red Wine or Balsalmic Vinegar
What you do:
Roughly chop the celery and blanch in boiling water for 6 minutes. Drain and set to one side.
Cube the Aubergines and fry in the olive oil for 4-5 minutes. Remove the aubergine with a slotted spoon and set aside.
Add the rest of the ingredients to the aubergine pan and bring to the boil. Cook for 5 minutes on a low heat, and the celery and the aubergine and cook for five minutes more.
Serve warm as a starter, a sauce for pasta or pile spoonfuls onto toasted Bruschetta.
This page can be found at: http://secretsauce.co.uk/vegetarian/aubergine-recipes/spicy-caponata/
A short link can also be used: http://bit.ly/eXZynD
Loyd Grossman

Try Loyd Grossman's deliciously tasty food range, including pour over sauces, soups, pasta and breads, for premium quality and inspired variety.
More from Loyd Grossman

With hardly any preparation required, this pasta dish delivers exactly what it says it will, it's quick and delicious!

This fresh seafood and spicy chorizo paella cooked with a rich tomato and basil sauce makes a perfect one-pot dinner to share alfresco.

A fusion of juicy tomatoes, fresh cream, natural yoghurt with aromatic spices and a hint of honey served with king prawns
Popular in aubergine recipes

These aubergine and mozzarella rolls are a lovely Mediterranean vegetarian dish perfect for eating in the sunshine, or a healthy salad indoors!

If you've got vegetarians over for dinner and no idea what to cook - this is an easy and delicious recipe
This recipe is completely dairy free, but if you like cheese these vegetable stacks are lovely topped with a slice of griddled Halloumi