Smoked pork sausage & bean casserole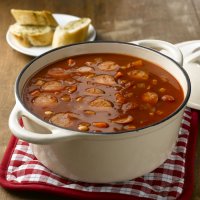 Feed your family for less than £3 with this credit crunch winter warmer smoked pork sausage and bean casserole
Serves: 4
Total cost: £2.96
Cost per head: 74p
What you need:
1 Mattessons Smoked Pork Sausage - sliced - £1.43
1 onion diced - 18p
2 carrots - peeled and diced - 16p
1 jar of tomato and basil sauce - 90p
415g can of baked beans - 29p
300ml water
What you do:
Heat a splash of oil in a large pan and fry the onion and carrots for 5 minutes.
Stir in the tomato sauce and water. Bring to the boil, cover and then simmer for 15 minutes.
Add the sausage and baked beans and cook for a further 10 - 15 minutes until the carrots are tender.
Handy tip:
Serve with warm garlic bread.
This page can be found at: http://secretsauce.co.uk/meat-poultry/sausage-recipes/smoked-pork-sausage-and-bean-casserole/
A short link can also be used: http://bit.ly/gLyvDb
Skandi Candle
Pure soy wax candles in Flack Fig & Vetiver or Lemon fragrances - perfect for any dinner party or romantic night in.
Mattessons Smoked Pork Sausage

Mattessons
Smoked Pork Sausage come in four varieties - reduced fat, original smoked, garlic smoked and hot and spicy smoked.
More from Mattessons Smoked Pork Sausage

If you've never tried pasta with sausage in it, this is the perfect recipe for you to put on the table - your family will thank you for it!

Sausage and mustard added to fresh green leaves creates a lovely warm salad - perfect for summer and winter!
Popular in sausage recipes

This is a classic British dish that's like a giant sausage roll. Serve with greens and mustard for a traditional dinner for two

Cocktail sausages cooked in honey are popular finger food, but wait until you've tried these sweet chilli versions

This is the best breakfast, especially if you've over-indulged a little the night before, but don't save it until then, it's great for dinner too!