Sausage & caramelised onion sandwich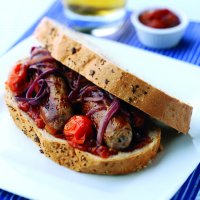 Whether you're battling a hangover, or just want a delicious breakfast, this sarnie is everyone's favourite for the weekend!
Preparation: 10 mins
Cooking: 45 mins
Serves: 4
What you need:
454g Cumberland sausages
1 red onion, sliced
100g cherry tomatoes
1 tsp English mustard
5 tbsp tomato relish
1 tbsp oil
8 slices wholemeal bread
What you do:
Preheat the oven to 200oC, gas mark 6.
Place the sausages, onion, tomatoes, mustard, 1 tbsp tomato relish and oil in a large baking tray. Mix well to coat. Bake for 40-45 minutes until golden and caramelised, stirring once half way through.
Spread the remaining relish over the bread and fill with the sausage and onion mixture.
This page can be found at: http://secretsauce.co.uk/meat-poultry/sausage-recipes/sausage-and-caramelised-onion-sandwich/
A short link can also be used: http://bit.ly/hBs8Ro
Skandi Candle
Pure soy wax candles in Flack Fig & Vetiver or Lemon fragrances - perfect for any dinner party or romantic night in.
Farmhouse Breakfast Week 2010
Get ready for breakfast – and reap the benefits. That's the message from HGCA, organisers of the eleventh annual Farmhouse Breakfast Week 24-30 January 2010. New for 2010 is a colourful recipe booklet packed with novel ideas that show you how to make a meal of breakfast. So, whether it is a bowl of Muesli with Summer Fruits, a slice of Banana and Honey Loaf or Eggy Bread Muffins with Bacon, we'll show you how to make your morning food fantastic and fun.
More from Farmhouse Breakfast Week 2010

A deliciously simple and healthy way to start the day!

Bored of the same old breakfast? Try this easy to make one which is healthy and will keep you full until lunchtime

A fantastic loaf to make in advance, then grab 'n' go any time!
Popular in sausage recipes

This is a classic British dish that's like a giant sausage roll. Serve with greens and mustard for a traditional dinner for two

Cocktail sausages cooked in honey are popular finger food, but wait until you've tried these sweet chilli versions

This is the best breakfast, especially if you've over-indulged a little the night before, but don't save it until then, it's great for dinner too!