Banana & honey breakfast loaf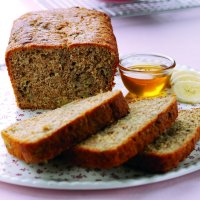 A fantastic loaf to make in advance, then grab 'n' go any time!
Preparation: 15 mins
Cooking: 45 mins
Serves: 10
What you need:
75g butter, softened
75g caster sugar
1 large egg, beaten
225g wholemeal flour
2 tsp baking powder
3 medium ripe bananas, mashed (250g)
2 tbsp clear honey
What you do:
Preheat the oven to 180oC, gas mark 4. Grease and base line a 1kg loaf tin.
Whisk the butter and sugar together until pale and fluffy, gradually whisk in the egg.
Mix the flour and baking powder together and fold into the butter mixture. Stir in the bananas and honey. Spoon into the prepared tin and bake for 40-45 minutes or until firm to touch and a skewer comes out clean. Allow to cool slightly before removing from the tin.
This page can be found at: http://secretsauce.co.uk/cakes-desserts/breakfast-recipes/banana-and-honey-breakfast-loaf/
A short link can also be used: http://bit.ly/ePmQXP
Skandi Candle
Pure soy wax candles in Flack Fig & Vetiver or Lemon fragrances - perfect for any dinner party or romantic night in.
Farmhouse Breakfast Week 2010
Get ready for breakfast – and reap the benefits. That's the message from HGCA, organisers of the eleventh annual Farmhouse Breakfast Week 24-30 January 2010. New for 2010 is a colourful recipe booklet packed with novel ideas that show you how to make a meal of breakfast. So, whether it is a bowl of Muesli with Summer Fruits, a slice of Banana and Honey Loaf or Eggy Bread Muffins with Bacon, we'll show you how to make your morning food fantastic and fun.
More from Farmhouse Breakfast Week 2010

Whether you're battling a hangover, or just want a delicious breakfast, this sarnie is everyone's favourite for the weekend!

A deliciously simple and healthy way to start the day!

Bored of the same old breakfast? Try this easy to make one which is healthy and will keep you full until lunchtime
Popular in breakfast recipes

Making the compote ahead of time makes this an ideal breakfast for bringing into work