Eggy bread muffins with bacon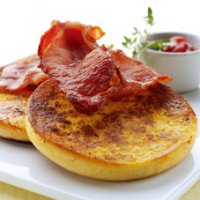 Bored of the same old breakfast? Try this easy to make one which is healthy and will keep you full until lunchtime
Prep time: 10 minutes
Cook time: 5-10 minutes
Serves: 4
What you need:
8 rashers smoked back (250g)
2 medium eggs, beaten
2 tbsp semi skimmed milk (30ml)
4 English muffins, halved (390g)
1 tbsp oil
What you do:
Grill the bacon for 5-7 minutes until golden.
Meanwhile, whisk the egg, milk and seasoning together, dip the muffins in the egg mixture.
Heat the oil in a large frying pan and fry the muffins for 1 minute on each side until golden.
Top the muffins with the bacon and serve with tomato ketchup.
This page can be found at: http://secretsauce.co.uk/meat-poultry/breakfast-recipes/eggy-bread-muffins-with-bacon/
A short link can also be used: http://bit.ly/gd3F77
Farmhouse Breakfast Week 2010
Get ready for breakfast – and reap the benefits. That's the message from HGCA, organisers of the eleventh annual Farmhouse Breakfast Week 24-30 January 2010. New for 2010 is a colourful recipe booklet packed with novel ideas that show you how to make a meal of breakfast. So, whether it is a bowl of Muesli with Summer Fruits, a slice of Banana and Honey Loaf or Eggy Bread Muffins with Bacon, we'll show you how to make your morning food fantastic and fun.
More from Farmhouse Breakfast Week 2010

Whether you're battling a hangover, or just want a delicious breakfast, this sarnie is everyone's favourite for the weekend!

A deliciously simple and healthy way to start the day!

A fantastic loaf to make in advance, then grab 'n' go any time!
Popular in breakfast recipes

A delicious baked breakfast in one pot with crusty bread for dipping. Breakfast heaven

Nadia says: 'I love these delicious breakfast scones, they're so versatile. You can make them in advance, which is perfect for when I'm on the go, as I can just grab one as I rush out the door.'

A tasty brunch recipe the whole family can enjoy