Breakfast trifle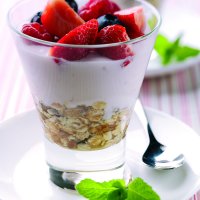 A deliciously simple and healthy way to start the day!
Preparation: 5 mins
Serves: 4
What you need:
150g muesli
8 tbsp apple juice (120ml)
450g strawberry yogurt
350g mixed seasonal fruits
What you do:
Place the muesli in the base of 4 wine glasses. Spoon 2 tbsp apple juice over each.
Spoon over the yogurt and then top with fruit.
This page can be found at: http://secretsauce.co.uk/cakes-desserts/muesli-recipes/breakfast-trifle/
A short link can also be used: http://bit.ly/haH0PW
Skandi Candle
Pure soy wax candles in Flack Fig & Vetiver or Lemon fragrances - perfect for any dinner party or romantic night in.
Farmhouse Breakfast Week 2010
Get ready for breakfast – and reap the benefits. That's the message from HGCA, organisers of the eleventh annual Farmhouse Breakfast Week 24-30 January 2010. New for 2010 is a colourful recipe booklet packed with novel ideas that show you how to make a meal of breakfast. So, whether it is a bowl of Muesli with Summer Fruits, a slice of Banana and Honey Loaf or Eggy Bread Muffins with Bacon, we'll show you how to make your morning food fantastic and fun.
More from Farmhouse Breakfast Week 2010

Whether you're battling a hangover, or just want a delicious breakfast, this sarnie is everyone's favourite for the weekend!

Bored of the same old breakfast? Try this easy to make one which is healthy and will keep you full until lunchtime

A fantastic loaf to make in advance, then grab 'n' go any time!