Sausage & apple casserole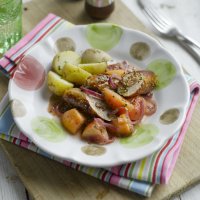 A great way to use up left over sausages! This recipe is part of Pink Lady apples' Summer bikini diet plan. Download the plan at www.pinkladyapples.co.uk/diet-plan.asp and lose half a stone in 4 weeks!
Preparation: 15 mins
Cooking: 15 mins
Serves: 2
What you need:
6 extra lean (5% fat) sausages
1 large red onion, sliced
1 large sprig rosemary, leaves only
3 Pink Lady apples, cut into wedges
2 tbsp cranberry sauce
2 tbsp wholegrain mustard
1/2 pt vegetable stock
2tsps cooking oil
What you do:
Grill the sausages.
Meanwhile fry the onions in the oil until soft and golden.
Add the rosemary and apples, and cook for 3-4mins till the apple starts to soften.
Add the cranberry sauce, mustard and stock to the pan too, and stir.
Bring to the boil and simmer uncovered for 10mins. Add a little flour, if needed, to thicken.
This page can be found at: http://secretsauce.co.uk/meat-poultry/sausage-recipes/sausage-and-apple-casserole/
A short link can also be used: http://bit.ly/e7gqax
Pink Lady apples

Pink Lady apples have a distinctive crisp texture and fizzy flavour – similar to champagne. It takes 200 days of tender care and, once ripe, each apple undergoes a rigorous quality control process to ensure that the high standard is kept – only the best apples can become a Pink Lady apple. Pink Lady apples are perfect culinary apples as they retain their texture and unique flavour and little, if any, additional sugar needs to be added.
More from Pink Lady apples

Flapjacks are great for desserts, snacks and even lunchboxes, so make up a tray and watch them disappear!

This wonderfully decadent dessert is perfect to serve at a large family gathering.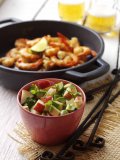 Even when the sun doesn't always shine this tasty, zingy very easy to make Australian recipe will make it seem like it does.
Popular in sausage recipes

This is a classic British dish that's like a giant sausage roll. Serve with greens and mustard for a traditional dinner for two

This is the best breakfast, especially if you've over-indulged a little the night before, but don't save it until then, it's great for dinner too!

Cocktail sausages cooked in honey are popular finger food, but wait until you've tried these sweet chilli versions