Rachel Green's Sausage Eggs Benedict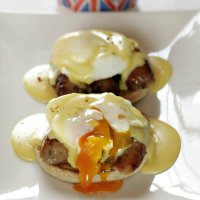 If you're browsing recipes while eating your breakfast, put your spoon down. Rachel Green's sausage eggs Benedict will knock the socks off anything you were just eating!
Preparation: 25 mins
Cooking: 15 mins
Serves: 4
What you need:
For the hollandaise sauce:
4 large British Lion egg yolks
2 tbsp lemon juice
250g unsalted butter, cut into small dice and chilled
Cayenne pepper
Sea salt & black pepper (optional)
For the rest:
8 good quality pork sausages
8 large British Lion eggs
1 tsp white wine vinegar
4 English muffins
Softened butter
What you do:
Preheat the grill and first make the hollandaise sauce. Place the egg yolks and lemon juice in a fairly large bowl and season. Whisk all the ingredients until they have blended together. Place over a pan of just simmering water, making sure that the bowl is not in contact with the water. Whisk in the butter, a few cubes at a time, until the sauce begins to thicken. Continue adding the butter, whisking all the time and adding a splash of water if the hollandaise looks like it is becoming too thick. If the sauce begins to separate, remove from the heat immediately and add a teaspoon of cold water to the mixture.
Once all of the butter has been incorporated season to taste with sea salt and black pepper, if required, and lemon juice. Remove from the heat and keep the hollandaise warm.
Next, prepare the eggs and sausages. Preheat the grill to a moderate heat and grill the sausages for 10 - 15 minutes. At the same time, poach the eggs in a large saucepan of barely simmering water to which you have added the white wine vinegar. You will have to do this in two batches.
When the eggs and sausages are almost ready, cut the muffins in half and place them in the toaster or under the grill. When the muffins have been lightly toasted, butter them generously and place in the middle of a warmed plate.
Remove the sausages from the grill and place on top of each half muffin. Place a poached egg on top of the sausage and finally spoon the warmed hollandaise sauce over the egg. Sprinkle with cayenne pepper and serve immediately.
This page can be found at: http://secretsauce.co.uk/meat-poultry/sausage-recipes/rachel-greens-sausage-eggs-benedict/
A short link can also be used: http://bit.ly/pozy6e
British Lion eggs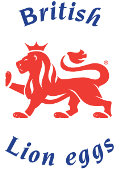 Look for the Lion on eggs to guarantee the highest standards of food safety. All Lion Quality eggs come from British hens vaccinated against salmonella and are date-stamped for freshness.
More from British Lion eggs

Celebrity chef Marcus Wareing's fantastic recipe for baked egg custard tart serves 8, but be prepared for it to only serve 4 because everyone will want a double helping!

Daniel Costello's Spanish baked eggs recipe was chosen by celebrity chef Paul Merrett as a winning recipe in British Lion eggs' Eggs Factor competition

A fantastic recipe for brunch - it looks decadent and you'll soon be wanting it every day!
Popular in sausage recipes

This is a classic British dish that's like a giant sausage roll. Serve with greens and mustard for a traditional dinner for two

This is the best breakfast, especially if you've over-indulged a little the night before, but don't save it until then, it's great for dinner too!

Cocktail sausages cooked in honey are popular finger food, but wait until you've tried these sweet chilli versions