Dutch Edam, pork, apple & sage sausages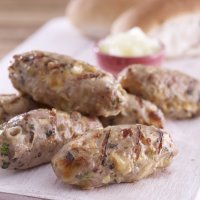 Dutch Edam, minced pork, apples and sage are a perfect combination, in these easy-to-make sausages. They are the perfect addition to a BBQ and can also be grilled and served with a salad.

Makes: 8 sausages
Preparation time: 10 minutes, plus 30 minutes chilling time
Cooking time: 15 minutes
What you need:
For the sausages:
450g (1lb) lean pork mince
1 eating apple, peeled, cored and diced
30ml (2tbsp) freshly chopped sage
100g (3½oz) Dutch Edam wedge, cut into small cubes
2 spring onions, finely chopped
1 egg, beaten
15ml (1tbsp) sunflower oil for brushing
To serve:
Finger rolls
Shredded iceberg lettuce
Apple sauce
What you do:
Place all the ingredients for the sausages in a large bowl, season with salt and freshly ground black pepper, then mix well.
Divide the mixture into 8 balls, then using your hands squeeze the mixture together and roll into sausage shapes. Chill for 30 minutes.
Brush the sausages all over with the oil, then barbecue or grill for 12-15 minutes, turning occasionally until the sausages are cooked through.
Serve the sausages in finger rolls with shredded lettuce and apple sauce.
Cook's tip: Alternatively the mixture can be shaped into burgers.
This page can be found at: http://secretsauce.co.uk/meat-poultry/sausage-recipes/dutch-edam-pork-apple-and-sage-sausages/
A short link can also be used: http://bit.ly/fz1Rug
Edam

Edam has 25% less fat than cheddar - which means everyone can indulge in lovely cheese without the consequences.
More from Edam

This favourite family recipe from the 1970s is given a twist with the addition of leeks and mushrooms.

These delicious savoury muffins are perfect for brunch - they combine Edam cheese with bacon and sundried tomatoes. Delicious served warm or cold at a family picnic or in a kid's lunchbox!

This cheesy meatball and pasta bake makes a great midweek meal, perfect for all the family. The natural, mild taste of Dutch Edam means this pasta dish is a winner with the kids. Just serve with a crisp green salad.
Popular in sausage recipes

This is a classic British dish that's like a giant sausage roll. Serve with greens and mustard for a traditional dinner for two

This is the best breakfast, especially if you've over-indulged a little the night before, but don't save it until then, it's great for dinner too!

Cocktail sausages cooked in honey are popular finger food, but wait until you've tried these sweet chilli versions