Edam, bacon & sundried tomato muffins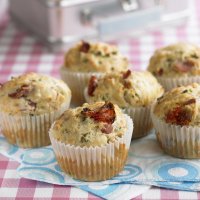 These delicious savoury muffins are perfect for brunch - they combine Edam cheese with bacon and sundried tomatoes. Delicious served warm or cold at a family picnic or in a kid's lunchbox!
Makes: 10 muffins
Preparation time: 10 minutes
Cooking time: 30 minutes
What you need:
100g (3½oz) smoked back bacon rashers
275g (10oz) plain flour
15ml (1tbsp) baking powder
5ml (1tsp) caster sugar
5ml (1tsp) salt
125g (4oz) Edam cheese, grated
75g (2¾oz) sundried tomatoes, chopped
30ml (2tbsp) freshly snipped chives
2 eggs
200ml (7floz) semi- skimmed milk
75g (2¾oz) butter, melted
What you do:
Preheat the oven to 375ºF, 190ºC, gas mark 5. Line a muffin tin with 10 paper muffin cases. Grill the bacon until crispy and chop into pieces. In a large bowl, sift together flour and baking powder.
Stir the sugar, salt, three quarters of the cheese, bacon, sundried tomatoes and chives into the flour mixture and mix well.
In another bowl, beat together the eggs, milk and melted butter and pour over the dry ingredients. Stir until just combined, the batter will be lumpy. Fill the muffin cases and sprinkle the tops with the reserved Edam. Bake for 20-25 minutes until risen and firm. Delicious eaten warm or cold.
Handy tip:
Replace the bacon for some cooked diced ham. These muffins are best eaten the day they are prepared, alternatively store in an airtight container for 2-3 days in the fridge.
This page can be found at: http://secretsauce.co.uk/meat-poultry/muffin-recipes/edam-bacon-tomato-muffins/
A short link can also be used: http://bit.ly/eJ25YB
Edam

Edam has 25% less fat than cheddar - which means everyone can indulge in lovely cheese without the consequences.
More from Edam

This favourite family recipe from the 1970s is given a twist with the addition of leeks and mushrooms.

This cheesy meatball and pasta bake makes a great midweek meal, perfect for all the family. The natural, mild taste of Dutch Edam means this pasta dish is a winner with the kids. Just serve with a crisp green salad.

Perfect for a mid-week family meal and great if your children are fussy about fish and you want to include some in their diet - they won't be able to resist the tasty and tangy Edam topping!