Spiced sausage salad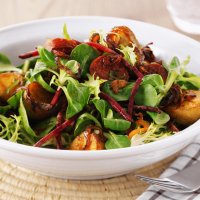 You won't be left hungry after this filling salad and it's full of flavour thanks to the spicy chorizo sausage!
Prep time: 5 mins
Cooking time: 20 mins
Serves: 4
What you need:
1 (160g) bag Bistro salad leaves

450g/1lb baby new potatoes, halved

150g/5oz chorizo sausage, sliced

1 red onion, chopped

1 green chilli, deseeded and sliced

30ml/2 tbsp balsamic vinegar

Pinch of caster sugar

Salt and freshly ground black pepper
What you do:
Cook the potatoes in boiling salted water for 10-15mins or until tender. Drain, rinse in cold water and leave to cool.

Heat a non-stick frying pan add the chorizo and sauté for 3mins or until the sausage is golden. Remove the pan from the heat, lift out the sausages with a slotted spoon.

Return the pan to the heat add the onion and chilli and sauté for 2 mins. Add the balsamic and sugar and sizzle for 30 seconds. Remove from the heat and season to taste.

Empty the salad leaves in a large bowl, add the potatoes, chorizo, onion and chilli mix and toss well. Serve with crusty bread.
This page can be found at: http://secretsauce.co.uk/meat-poultry/sausage-recipes/chorizo-sausage-salad/
A short link can also be used: http://bit.ly/gfTeVt
Bring on the salads
Salad bags are a great way to help you towards the recommended daily intake of fruit and vegetables, whether as a crunchy side dish, a refreshing starter, or a filling main course. Just one cereal bowl (80g) of salad leaves counts as one of our five portions of fruit and veg, making a salad recipe one of the easiest, most convenient and hassle free ways to achieve your '5-a-day'.
More from Bring on the salads

No cheese is tastier chargrilled than Halloumi and the sweet nectarine goes perfectly with the salty prosciutto

This salad's packed full of superfoods like watercress, broccoli and garlic, so you'll be eating well and giving your health a real boost too!

Wave goodbye to limp lettuce, this salad has fresh leaves, celery, onions and sweetcorn to give it has a real crunch!
Popular in sausage recipes

This is a classic British dish that's like a giant sausage roll. Serve with greens and mustard for a traditional dinner for two

This is the best breakfast, especially if you've over-indulged a little the night before, but don't save it until then, it's great for dinner too!

Cocktail sausages cooked in honey are popular finger food, but wait until you've tried these sweet chilli versions