Rice, tuna & bean crunch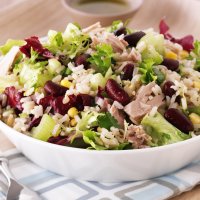 Wave goodbye to limp lettuce, this salad has fresh leaves, celery, onions and sweetcorn to give it has a real crunch!
Serves: 4
Prep: 5 mins
Cooking: 20mins
What you need:
1 (130g) bag crisp mixed salad leaves

150g/5oz brown rice

2 sticks celery, sliced

1/2 red onion, chopped

1 (195g) can sweetcorn kernels, drained

1 (250g) red kidney beans, drained

1 (195g) can tuna in brine, drained
For the dressing:
45ml/3 tbsp olive oil

juice of 1 lime

2.5ml/1/2 tsp caster sugar

45ml/3 tbsp chopped fresh coriander

salt and freshly ground black pepper
What you do:
Cook the rice in boiling salted water for 20mins or according to pack instructions. Whilst this cooks, mix all the dressing ingredients together with a fork and season to taste.

Drain the rice in a sieve, rinse until cold under cold water. Drain again and empty into a bowl. Add the dressing, celery, onion, sweetcorn, kidney beans, tuna and salad leaves and toss to mix.
This page can be found at: http://secretsauce.co.uk/fish-seafood/tuna-recipes/rice-bean-tuna-salad/
A short link can also be used: http://bit.ly/g656FL
Bring on the salads
Salad bags are a great way to help you towards the recommended daily intake of fruit and vegetables, whether as a crunchy side dish, a refreshing starter, or a filling main course. Just one cereal bowl (80g) of salad leaves counts as one of our five portions of fruit and veg, making a salad recipe one of the easiest, most convenient and hassle free ways to achieve your '5-a-day'.
More from Bring on the salads

No cheese is tastier chargrilled than Halloumi and the sweet nectarine goes perfectly with the salty prosciutto

You won't be left hungry after this filling salad and it's full of flavour thanks to the spicy chorizo sausage!

This salad's packed full of superfoods like watercress, broccoli and garlic, so you'll be eating well and giving your health a real boost too!
Popular in tuna recipes

Fresh tuna steaks are healthy and full of flavour and go beautifully with red onion and red wine!

Brilliant for kids and just as good for adults too, these healthy burgers are low in fat and ready in just 45 minutes

A classic combination transformed held within a delicious black pepper pitta.