Chargrilled Halloumi, nectarine & prosciutto salad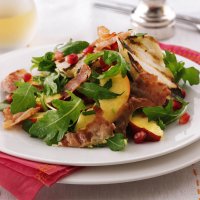 No cheese is tastier chargrilled than Halloumi and the sweet nectarine goes perfectly with the salty prosciutto
Serves: 4
Prep: 15 mins
Cooking: About 10 mins
What you need:
6 slices prosciutto

250g/9oz Halloumi cheese, sliced

1 (100g) bag rocket leaves

3 tbsp roughly chopped fresh mint

seeds from 1 ripe pomegranate

4 ripe nectarines, cut into segments
For the dressing:
1 tbsp sesame oil

4 tbsp balsamic vinegar

What you do:
Firstly, heat up a chargrill pan and when it's hot add the slices of prosciutto a few at a time, and cook for 1-2mins on each side until they have become crisp and golden. Leave to cool down and crisp up.

Next, brush the halloumi cheese with a little olive oil and add to the griddle, cook for 1-2mins on each side until they have beautiful, dark chargrill marks on the surface of the cheese. Remove from the pan and set aside.

Add the rocket, mint, pomegranate seeds and nectarines to the large bowl before giving it a toss with the dressing. Plate the salad up, making sure that everyone has the same amount of everything, before crunching up the prosciutto liberally over the top. Taste a little before seasoning since the cheese and ham are already high in salt and the wild rocket will furnish you with a solid peppery kick.

This page can be found at: http://secretsauce.co.uk/meat-poultry/salad-recipes/halloumi-nectarine-prosciutto-salad/
A short link can also be used: http://bit.ly/ePepqH
Bring on the salads
Salad bags are a great way to help you towards the recommended daily intake of fruit and vegetables, whether as a crunchy side dish, a refreshing starter, or a filling main course. Just one cereal bowl (80g) of salad leaves counts as one of our five portions of fruit and veg, making a salad recipe one of the easiest, most convenient and hassle free ways to achieve your '5-a-day'.
More from Bring on the salads

You won't be left hungry after this filling salad and it's full of flavour thanks to the spicy chorizo sausage!

This salad's packed full of superfoods like watercress, broccoli and garlic, so you'll be eating well and giving your health a real boost too!

Wave goodbye to limp lettuce, this salad has fresh leaves, celery, onions and sweetcorn to give it has a real crunch!
Popular in salad recipes

A satisfying warm salad of goat's cheese, roast sweet potato and prosciutto

This is a lovely quick and easy salad, lovely with fresh crusty bread, or if you're feeling naughty, a big bowl of chips!

Pancetta is a dry, cured meat, similar to bacon from Italy or Spain. Its salty flavour goes perfectly with the filling boiled eggs and healthy lentils