Apple and sausage filo rolls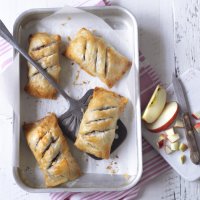 These filo rolls are the ultimate picnic or lunchbox filler and are a great alternative to a sarnie. Light crispy pastry encases flavour-packed sausage and Pink Lady apple.
Preparation: 20 mins
Cooking: 25 mins
Serves: 6
What you need:
6 good quality Toulouse style sausages (approx. 400g)
1 Pink Lady apple, cored and finely diced
50g dried breadcrumbs
1 tbsp chopped fresh sage
2 tsp wholegrain mustard
150g filo pastry (6 sheets measuring approx. 40 cm x 30 cm)
60g butter, melted
What you do:
Preheat the oven to Gas Mark 6/200°C/fan oven 180°C. Squeeze the meat out of the sausage skins and put into a bowl with the diced Pink Lady apple, 25g breadcrumbs, sage, mustard and seasoning. Mix really well with your hands to combine.
Lay one sheet of pastry onto a clean board and brush with the melted butter. Top with a second sheet of pastry, brush with more butter and then top with a final sheet of pastry. Brush again with butter and then fold in half to make a long rectangle. Cut into three equal small rectangles. Repeat this process again with the remaining three sheets of filo pastry.
Shape the sausage mixture into six equal sausage shapes, just a bit shorter than the pastry rectangles. Take one pastry rectangle and sprinkle a little of the remaining breadcrumbs in the centre. Put a sausage on top of the breadcrumbs and brush all the exposed pastry with butter. Fold the pastry up and over the sausage, pressing down at the edges to enclose the sausages. Repeat with remaining filo and sausage mixture.
Place the filo rolls on the prepared baking tray, brush with the melted butter and then lightly score each roll three times on the top. Bake for 20-25 minutes until golden and cooked through.
This page can be found at: http://secretsauce.co.uk/meat-poultry/sausage-recipes/apple-and-sausage-filo-rolls/
A short link can also be used: http://bit.ly/iLLMD5
Pink Lady apples

Pink Lady apples have a distinctive crisp texture and fizzy flavour – similar to champagne. It takes 200 days of tender care and, once ripe, each apple undergoes a rigorous quality control process to ensure that the high standard is kept – only the best apples can become a Pink Lady apple. Pink Lady apples are perfect culinary apples as they retain their texture and unique flavour and little, if any, additional sugar needs to be added.
More from Pink Lady apples

Flapjacks are great for desserts, snacks and even lunchboxes, so make up a tray and watch them disappear!

This wonderfully decadent dessert is perfect to serve at a large family gathering.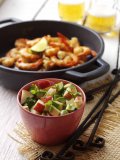 Even when the sun doesn't always shine this tasty, zingy very easy to make Australian recipe will make it seem like it does.
Popular in sausage recipes

This is a classic British dish that's like a giant sausage roll. Serve with greens and mustard for a traditional dinner for two

This is the best breakfast, especially if you've over-indulged a little the night before, but don't save it until then, it's great for dinner too!

Cocktail sausages cooked in honey are popular finger food, but wait until you've tried these sweet chilli versions