Smoky roast potato bake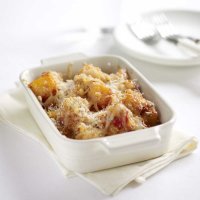 The smoky sauce offers a new twist to having a potato bake - perfect with a side of grilled meat or fish
What you need:
1 jar Loyd Grossman Al Forno Spicy Italian Salami with Smoked Chilli Potato Bake Sauce
3 medium sized potatoes
70g of grated cheese (mozzarella or mild cheddar work best)
Handful of dry breadcrumb, optional
What you do:
Preheat oven to 200C/Fan 180C
Cut 3 medium potatoes into small 2cm dice and lay flat in 1.5L shallow ovenproof dish.
Coat well with olive oil and bake uncovered for 25 minutes or until potatoes are cooked through.
Remove from oven, stir in the Loyd Grossman Sauce and top with grated cheese.
Sprinkle breadcrumbs for a crispy finish (if using)
Bake for a final 10 minutes.
Enjoy on its own or with grilled meat or sausages.
This page can be found at: http://secretsauce.co.uk/meat-poultry/potato-recipes/smoky-roast-potato-bake/
A short link can also be used: http://bit.ly/fYBYRE
Loyd Grossman

Try Loyd Grossman's deliciously tasty food range, including pour over sauces, soups, pasta and breads, for premium quality and inspired variety.
More from Loyd Grossman

With hardly any preparation required, this pasta dish delivers exactly what it says it will, it's quick and delicious!

This fresh seafood and spicy chorizo paella cooked with a rich tomato and basil sauce makes a perfect one-pot dinner to share alfresco.

A fusion of juicy tomatoes, fresh cream, natural yoghurt with aromatic spices and a hint of honey served with king prawns
Popular in potato recipes

A delicious curry-filled baked potato with a fruity twist

A mouth-watering mixture that tastes amazing on oven-baked potatoes

Quick and easy corned beef hash and baked potato