Pot roast pork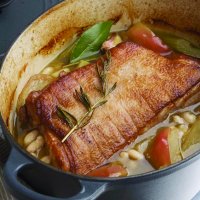 Pot roasts don't have to take forever to cook - this roast pork version is ready in just over an hour and is full of flavour with apples, cannellini beans and white wine
Serves: 6
What you need:
1.5kg loin of pork, off the bone and skin removed
25g butter
2 tbsp olive oil
6 cloves of garlic, unpeeled
4 sprigs of rosemary
3 bay leaves
4-6 stalks of celery, thickly sliced
3 Pink Lady apples, cored and cut into wedges
400ml white wine
2 tins of cannellini beans, drained
salt and freshly ground black pepper
What you do:
Pre-heat the oven to 200˚C/180˚C fan ovens/gas mark 6.
Trim the pork of any excess fat, and tie the loin with a few pieces of string to keep it in a long roll shape. Season with salt and pepper.
Heat a large casserole with the butter and the 2 tbsp of olive oil. Fry the pork until it is golden. Add the garlic, rosemary, bay leaves, celery, apples and wine. Bring to a simmer and over with a lid, or a piece of greaseproof paper. Place in the oven for 30 minutes.
After 30 minutes cooking time, add the cannellini beans and return to the oven for a further 30 minutes.
Once cooked, remove the pork and leave to rest for about 10 minutes, keeping it loosely covered in foil.
Divide the cannellini beans, apples, celery and sauce between warmed plates/bowls, removing the rosemary stalks, bay leaves and garlic if you prefer not to serve them (however they will have a wonderful flavour if squashed into the sauce).
Cut the pork into thick slices and sit on the plates/bowls. Serve straight away.
This page can be found at: http://secretsauce.co.uk/meat-poultry/pork-recipes/pot-roast-pork/
A short link can also be used: http://bit.ly/dRpgTm
Pink Lady apples

Pink Lady apples have a distinctive crisp texture and fizzy flavour – similar to champagne. It takes 200 days of tender care and, once ripe, each apple undergoes a rigorous quality control process to ensure that the high standard is kept – only the best apples can become a Pink Lady apple. Pink Lady apples are perfect culinary apples as they retain their texture and unique flavour and little, if any, additional sugar needs to be added.
More from Pink Lady apples

Flapjacks are great for desserts, snacks and even lunchboxes, so make up a tray and watch them disappear!

This wonderfully decadent dessert is perfect to serve at a large family gathering.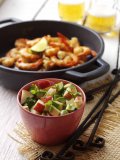 Even when the sun doesn't always shine this tasty, zingy very easy to make Australian recipe will make it seem like it does.
Popular in pork recipes

If you love a roast, but want a new recipe, try this pork shoulder with roasted garlic, vegetables and caraway seeds

A great, slightly posher take on apple sauce for a celebration Sunday roast pork dinner.

Forget your usual pork chop recipe, this one will soon take its place at the top of your recipe pile!