Slow roast shoulder of lamb with vegetables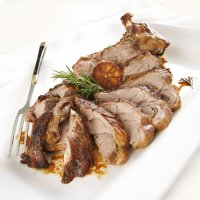 Shoulder of lamb is a delicious and cheaper way to cook your roast lamb and the rosemary and thyme bring out the flavours beautifully
Serves: 6
What you need:
1 Whole Shoulder of Lamb (1.75 kg)
Olive Oil
Salt, pepper
6 sprigs fresh Rosemary
6 sprigs fresh Thyme
1 whole bulb of Garlic, broken into cloves and
unpeeled (crush ½ of the cloves with a knife)
2 Red Onions (quartered)
3 Carrots (cut into batons)
2 sticks Celery (sliced)
1 large Leek, (sliced)
4 or 5 ripe Tomatoes (halved)
2 Bay Leaves
1x 375g tinned Tomatoes
½ bottle Red Wine or 1 x 375 ml bottle dry Cider
1½ tbsp Plain Flour
What you do:
Allow the meat to come to room temperature. Preheat the oven to 200°C/400°F/Gas 6. Rub the lamb with a little oil, season with salt and pepper and place in a large roasting tin. Place in the oven and brown on all sides for about 15 minutes.
Remove from the oven and carefully place the rosemary, thyme, garlic, onions, carrots, celery, leek, fresh tomatoes and bay leaves into the roasting tin below the joint. Pour the tinned tomatoes, wine or cider over the top of the joint and cover the tin with a double layer of foil. Return to the oven for 10 minutes, then lower the oven temperature to 140°C/275°F/Gas 1 and cook for 2½ hours or until the lamb is tender and sticky. Check the meat juices run clear.
Remove the joint from the oven, place the lamb on a warm plate (allow to rest for 20 minutes), remove the whole cooked vegetables and keep warm.
Use the delicious juices to make gravy, if you like, adding a little redcurrant jelly to taste.
Serve with the vegetables and gravy, accompanied by polenta or couscous and green beans.
This page can be found at: http://secretsauce.co.uk/meat-poultry/lamb-recipes/slow-roast-shoulder-of-lamb-with-vegetables/
A short link can also be used: http://bit.ly/e1YsTW
Donald Russell

Donald Russell supplies the finest meat, including grass-fed beef and lamb, 'Freedom Food' pork and salmon, wild Scottish fish, venison and game birds, award-winning free range poultry and other gourmet specialities by mail order across the UK.
More from Donald Russell

This recipe takes a little bit of time, but it's worth it for the deliciously tender meat, kidney and flaky pastry

If you love a roast, but want a new recipe, try this pork shoulder with roasted garlic, vegetables and caraway seeds

Beef stew is the best winter warmer, slow cooked for two hours to make sure the beef is tender and has absorbed all the delicious flavours
Popular in lamb recipes

A taste of the middle east, perfect for a mid-week supper

Juicy lamb shanks with shallots, mint and harissa sauce create a fantastic Tunisian dish - just serve with couscous

You can't beat a baked dish for feeding the family - and this is one of the best, made easy for you with red and white sauces for lasagne.