Steak & kidney pie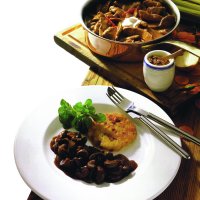 This recipe takes a little bit of time, but it's worth it for the deliciously tender meat, kidney and flaky pastry
Serves: 4-6
What you need:
880g Steak and Kidney
1 tsp Salt
½ tsp Pepper
2 tbsp Plain Flour
4-6 tbsp Olive Oil
1 Onion (chopped)
125g Button Mushrooms
1 tbsp Tomato Puree
400 ml Guinness or Milk Stout
2 Bay Leaves
4 sprigs Thyme
200 ml Beef Stock
500g Puff Pastry
1 Egg Yolk
What you do:
Begin at least 4 hours before serving.
Preheat the oven to 160ºC/320ºF/Gas 2. Place the steak and kidney in a plastic bag with the salt, pepper and flour. Close the bag and shake well until the meat is thoroughly coated.
Heat 2 to 3 tbsp oil in casserole dish over a high heat; sear the meat all over in the hot oil in 2-3 batches, adding more oil each time. Remove with a slotted spoon and leave set aside.
Add the onions and mushrooms to the casserole and cook for 2-3 Minutes. Add the tomato puree and cook for a further 2-3 minutes. Deglaze with the Guinness, add bay leaves, thyme, steak and kidney and stock. Bring to the boil then cover and place in the oven for 1½ hours.
Take the casserole out of oven and place on the hob. Reduce the sauce over a medium heat to a smooth consistency and allow to cool.
To complete the cooking, preheat the oven to 180ºC/360ºF/Gas 4.
Place the steak and kidney from the casserole into a 1 litre pie dish and brush the pie rim with egg yolk. Roll out the pastry to 5 mm thick and place on top of the pie dish, carefully pressing down the rim. Brush the pastry with the remaining egg yolk and bake in the middle of the oven for 35-40 minutes. Serve immediately.
Serve with creamy mashed potatoes, garden peas and carrots.
This page can be found at: http://secretsauce.co.uk/meat-poultry/pie-recipes/steak-and-kidney-pie/
A short link can also be used: http://bit.ly/gbBHLr
Donald Russell

Donald Russell supplies the finest meat, including grass-fed beef and lamb, 'Freedom Food' pork and salmon, wild Scottish fish, venison and game birds, award-winning free range poultry and other gourmet specialities by mail order across the UK.
More from Donald Russell

If you love a roast, but want a new recipe, try this pork shoulder with roasted garlic, vegetables and caraway seeds

Beef stew is the best winter warmer, slow cooked for two hours to make sure the beef is tender and has absorbed all the delicious flavours

Shoulder of lamb is a delicious and cheaper way to cook your roast lamb and the rosemary and thyme bring out the flavours beautifully
Popular in pie recipes

A traditional dish with a British twist. These Ploughman's pies are sure to go down a treat at any party this year!

A delicious chicken pie with a light, crisp pastry topping

British food enthusiast and celebrity chef, Ed Baines, is a well known connoisseur of British food so we're delighted to have his secret recipe for steak pie!