Classic daube de boeuf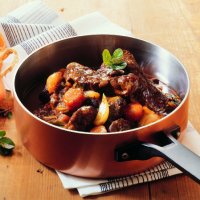 Beef stew is the best winter warmer, slow cooked for two hours to make sure the beef is tender and has absorbed all the delicious flavours

Serves: 6-8
What you need:
880g Beef Rib Trim
1 tbsp Olive oil
1 Onion (peeled and thinly sliced)
3 Celery stalks (trimmed and cut into batons)
3 Garlic cloves (peeled and sliced)
3 tbsp Seasoned flour
375ml Red wine
1 Orange (zest & juice)
600ml Beef stock 2 tbsp Black olives
8 Sun-dried tomato halves (roughly chopped)
Pepper
1 Bay leaf
1 sprig Rosemary
½ tsp Fennel seeds (optional)
Salt (optional)
What you do:
Preheat the oven to 160°C/320°F/Gas 2. Heat the oil in a large casserole over a medium heat and fry the onion, celery and garlic until golden brown, remove and set aside.
Coat the meat in the seasoned flour, add to the casserole and cook in 2-3 batches until golden brown. Return the vegetables to the pan. Add the wine and bring to the boil, scraping the pan to deglaze, and then reduce by a third. Cut the orange zest into fine shreds and add them, along with the juice and stock, to the pan.
Add the olives, tomato, pepper and herbs, then cover and slow cook in the oven for 2 hours. Before serving, reduce the sauce to a smooth consistency, add salt to taste.
Serve with jacket or mashed potatoes.
This page can be found at: http://secretsauce.co.uk/meat-poultry/beef-recipes/classic-daube-de-boeuf/
A short link can also be used: http://bit.ly/ePbNlv
Donald Russell

Donald Russell supplies the finest meat, including grass-fed beef and lamb, 'Freedom Food' pork and salmon, wild Scottish fish, venison and game birds, award-winning free range poultry and other gourmet specialities by mail order across the UK.
More from Donald Russell

This recipe takes a little bit of time, but it's worth it for the deliciously tender meat, kidney and flaky pastry

If you love a roast, but want a new recipe, try this pork shoulder with roasted garlic, vegetables and caraway seeds

Shoulder of lamb is a delicious and cheaper way to cook your roast lamb and the rosemary and thyme bring out the flavours beautifully
Popular in beef recipes

This easy-to-make tasty meal is really healthy - helping you towards your 5-a-day. Make it with beef mince, or choose Quorn mince if you're vegetarian.

Tender beef with the spice of chilli and the sweetness from sweet potato creates an exciting stew-type dish bursting with flavour.

A delicious, quirky new twist on a homemade favourite!