Pork chops with apples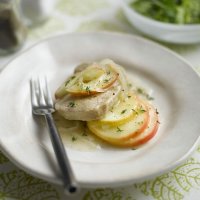 Pork and apple go perfectly together - it's roast pork and apple sauce in a mid-week version! This recipe is part of Pink Lady apples' summer bikini diet plan. Download the plan at www.pinkladyapples.co.uk/diet-plan.asp and lose half a stone in 4 weeks!
Preparation: 15 mins
Cooking: 25 mins
Serves: 2
What you need:
4 lean boneless pork loin chops, 100g each
1 sliced onion
200ml clear apple juice
2tsps chopped fresh thyme
2 large Pink Lady apples
2tbsps lemon juice
15g cornflour
2tbsps cold water
Pepper
What you do:
Place the chops in a large heavy based frying pan with the onion, apple juice and thyme. Bring the apple juice to the boil, cover the pan with a lid and simmer gently until cooked - about 15 minutes - turning the pork over half way through.
Meanwhile peel the apple, core and cut into 5mm thick circles, tossing in the lemon juice to prevent browning.
When the pork is cooked, add the apple slices and simmer for a further 5 minutes.
Blend the cornflour with the water and stir well into the apple juice to thicken the sauce.
Simmer for 1-2 minutes or until the apples are just tender (don't be tempted to use apples other than Pink Lady as they won't keep their shape as well and will spoil the look of the dish).
This page can be found at: http://secretsauce.co.uk/meat-poultry/pork-recipes/pork-chops-with-apples/
A short link can also be used: http://bit.ly/hE1Vli
Pink Lady apples

Pink Lady apples have a distinctive crisp texture and fizzy flavour – similar to champagne. It takes 200 days of tender care and, once ripe, each apple undergoes a rigorous quality control process to ensure that the high standard is kept – only the best apples can become a Pink Lady apple. Pink Lady apples are perfect culinary apples as they retain their texture and unique flavour and little, if any, additional sugar needs to be added.
More from Pink Lady apples

Flapjacks are great for desserts, snacks and even lunchboxes, so make up a tray and watch them disappear!

This wonderfully decadent dessert is perfect to serve at a large family gathering.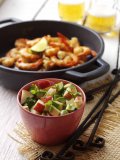 Even when the sun doesn't always shine this tasty, zingy very easy to make Australian recipe will make it seem like it does.
Popular in pork recipes

If you love a roast, but want a new recipe, try this pork shoulder with roasted garlic, vegetables and caraway seeds

A great, slightly posher take on apple sauce for a celebration Sunday roast pork dinner.

Forget your usual pork chop recipe, this one will soon take its place at the top of your recipe pile!