Oriental pork meatballs with chantenay carrots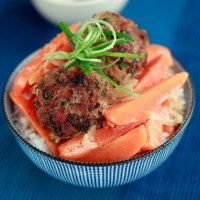 If you've never had meatballs Oriental style, then it's about time you tried this delicious dish served with sweet Chantenay carrots
Serves: 4
What you need:
For the meatballs you'll need:
500g lean pork mince
4 spring onions, finely sliced
2cm piece root ginger, peeled and finely grated
2 cloves garlic, peeled and crushed
1 tbsp fish sauce
50g fresh white breadcrumbs
1 egg yolk
2 tbsp Hill Farm cold pressed rapeseed oil
For the sauce you'll need:
250g Chantenay Carrots, cut lengthways into quarters
2 shallots, peeled and finely chopped
1 clove garlic, peeled and crushed
1 tbsp Hill Farm cold pressed rapeseed oil
1 tbsp Bart Spices Red Thai Curry paste
1 400ml tin coconut milk
1 tbsp fish sauce
Juice 1 lime
Small handful coriander, washed and finely chopped
2 spring onions, finely shredded
What you do:
Place the pork mince in a bowl with the spring onion, ginger, garlic, fish sauce, breadcrumbs and egg yolk. Mix together well with a fork, season with black pepper and a little salt - the fish sauce is quite salty. Shape the mixture with your hands into about 12 small meatballs. Heat the 2 tbsp cold pressed rapeseed oil in a large frying pan and fry the meatballs gently until golden, turning occasionally, and cooked through, about 8 minutes. Remove from pan and set aside.
Wipe out the pan, return to a medium heat and add 1 tbsp of cold pressed rapeseed oil. Add the shallots and Chantenay Carrots and cook over a gentle heat for 10 minutes until softened. Add the garlic and red Thai curry paste, and cook for a further 2 minutes. Stir in the coconut milk and fish sauce, bring to the boil and simmer gently for 20 minutes, until reduced and thickened slightly. Stir in the lime juice, add the meatballs and cook for a further 5 minutes.
To serve, place meatballs on a bed of fragrant jasmine rice with sauce poured over the top and garnish with the coriander and shredded spring onions. The sauce can be thickened with cornflour, but this is not traditional.

This page can be found at: http://secretsauce.co.uk/meat-poultry/pork-recipes/oriental-pork-meatballs-chantenay-carrots/
A short link can also be used: http://bit.ly/hO0NT2
Chantenay carrots

Chantenay is a small sweet variety of carrot with crisp, orange flesh and a tender texture. Five Chantenay carrots count as one portion towards the recommended five portions of fruit and veg we should eat each day.
More from Chantenay carrots

A fantastic winter warmer with sweet Chantenay carrots, tender chunks of steak in a rich gravy with filling dumplings.

Leg or shoulder of lamb with sweet carrots and spring vegetables is a great Sunday dish, just make sure you've got a big helping of redcurrant jelly handy

If you love olives, you'll love this recipe and the good news is this rice salad's really good for you too!
Popular in pork recipes

If you love a roast, but want a new recipe, try this pork shoulder with roasted garlic, vegetables and caraway seeds

A great, slightly posher take on apple sauce for a celebration Sunday roast pork dinner.

Forget your usual pork chop recipe, this one will soon take its place at the top of your recipe pile!