Oat coated pork with spicy mushroom sauce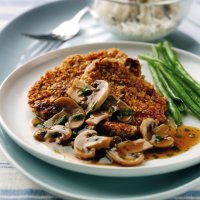 Oats make a delicious and healthy topping for meat and fish.
Preparation: 15 mins
Cooking: 15 mins
Serves: 4
What you need:
400g lean pork fillet
2 tbsp rapeseed oil
125g oats
2 tsp chilli powder
320g pack mushrooms, sliced
2 tsp Worcestershire sauce
4 tsp reduced salt gravy granules
25g pack parsley, chopped
What you do:
Cut the pork into 8 slices, place each piece between 2 sheets of cling film and beat with a rolling pin until thin. Brush with a little of the oil.
Mix the oats and chilli powder together and press on both sides of the pork medallions to evenly coat.
Heat the remaining oil in a frying pan and fry the pork in 2 batches for 3 minutes each side until cooked throughout. Remove from the pan and keep warm.
Add the mushrooms to the pan with the Worcestershire sauce and fry for 2-3 minutes. Mix the gravy granules with 300ml boiling water and add to the pan and cook for 1-2 minutes. Season with black pepper, add the parsley and pour over the pork.
Serve with green beans.
Cook's tip:
This is lovely served with a wild and long grain rice mix or mashed potato. Add 1/2 -1 tsp hot smoked paprika for extra flavour instead of the chilli powder.
This page can be found at: http://secretsauce.co.uk/meat-poultry/pork-recipes/oat-coated-pork-with-spicy-mushroom-sauce/
A short link can also be used: http://bit.ly/1aIXrKi
All about oats

All About Oats is an independent campaign which aims to raise awareness of the health benefits and versatility of oats.
More from All about oats

Try using this stuffing mix to fill the cavity of whole chickens before roasting - it's perfect for Christmas turkey too

This delicious treat includes two of your five-a-day plus one serving of wholegrain per person.

Oats aren't just for breakfast and make great toppings for meat or oily fish
Popular in pork recipes

If you love a roast, but want a new recipe, try this pork shoulder with roasted garlic, vegetables and caraway seeds

A great, slightly posher take on apple sauce for a celebration Sunday roast pork dinner.

Forget your usual pork chop recipe, this one will soon take its place at the top of your recipe pile!