Oat topped mackerel with roast tomatoes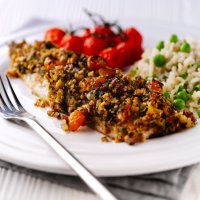 Oats aren't just for breakfast though and make great toppings for meat or oily fish. Oats are nutritious wholegrains that contain the soluble fibre beta-glucan, which has been shown to help lower cholesterol
Preparation: 15 mins
Cooking: 15 mins
Serves: 4
What you need:
1 tbsp rapeseed oil
1 onion, chopped
75g oats
50g dried apricots, chopped
25g pack parsley, chopped
2 tbsp chopped chives
4 mackerel fillets
400g vine-on cherry tomatoes
What you do:
Preheat the oven to 200oC, gas mark 6.
For the topping, heat the oil in a frying pan and fry the onion for 4-5 minutes. Add the oats and apricots and cook for 1-2 minutes. Stir in 100ml water, the herbs and season well. Cool slightly.
Press the topping onto the flesh side of the mackerel and place on a large baking tray. Add the cherry tomatoes on the vine and bake for 15 minutes until cooked throughout
Cook's tip:
Capers and chopped olives will work well instead of the apricots.
This page can be found at: http://secretsauce.co.uk/fish-seafood/mackerel-recipes/oat-topped-mackerel-with-roast-tomatoes/
A short link can also be used: http://bit.ly/HEAtaL
All about oats

All About Oats is an independent campaign which aims to raise awareness of the health benefits and versatility of oats.
More from All about oats

Try using this stuffing mix to fill the cavity of whole chickens before roasting - it's perfect for Christmas turkey too

This delicious treat includes two of your five-a-day plus one serving of wholegrain per person.

A nutritious, warming breakfast to keep you going for the morning.
Popular in mackerel recipes

Feed the family healthy fish South American style with this great mackerel dish

A delicious dip which makes a good meze, starter or addition to a picnic or TV supper. Created by Theodore Kyriakou, this recipe is known in Greek kitchens as Koliosalata.

Fresh mackerel is a delicious and simple fish when cooked quickly on a hot grill and this is a fantastic marinade featuring some of the key ingredients of Indonesian cooking