Scrunchy topped chicken, leek & sweetcorn pie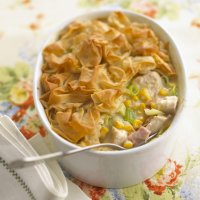 A delicious chicken pie with a light, crisp pastry topping
Cooking: 70 mins
Serves: 4
What you need:
Equipment
Deep non-stick frying pan
Ovenproof dish
Ingredients:
25g butter
2 large leeks, trimmed and sliced
25g plain flour
350ml chicken stock
150ml single cream
350g cooked chicken, cut into bite-size pieces
100g sliced ham, roughly shredded
340g can Green Giant Niblets, drained
Topping:
15g butter, melted
3 -4 sheets filo pastry ( approx 125g)
What you do:
Heat the oven to 190C/375F/gas mark 5
Melt the butter and cook the leeks over a gentle heat for 10 minutes until softened.
Stir in the flour then when absorbed into the mixture, gradually add the stock and cream. Bring the sauce to simmer then add the, chicken, ham and sweetcorn and the chicken, cook gently for 2-3 minutes then transfer to a 2.5-3L ovenproof dish.
Tear the filo pastry into wide strips. Lightly brush with butter then casually arrange over the pie filling to create a ruffled effect.
Bake the pie for 35-40 minutes until the pastry is crisp and golden.
Handy cook's tips:
If preferred, use 250g baby button mushrooms instead of the leeks.
It may be convenient to buy a ready spit roasted chicken from the supermarket, make sure all the skin is removed
This page can be found at: http://secretsauce.co.uk/meat-poultry/pie-recipes/scrunchy-topped-chicken-leek-and-sweetcorn-pie/
A short link can also be used: http://bit.ly/e8zpfp
Green Giant

Green Giant sweetcorn and specialty vegetables are the perfect way to make sure you and your family get their five recommended daily servings of fruit and vegetables a day. Products contain no artificial additives or preservatives, just lots of tasty goodness that everyone can enjoy.
More from Green Giant

Children love pasta and they'll love this dish with their favourite sweetcorn. This basic tomato sauce is a great standby recipe which will become a favourite dish as leftover ingredients can be added to ring the changes.

Italian dishes don't come finer than a traditional spaghetti Bolognese and this one is sure not to disappoint

Macaroni with a large helping of stretchy melted cheese and a creamy topping - comfort food doesn't get any better than this
Popular in pie recipes

This recipe takes a little bit of time, but it's worth it for the deliciously tender meat, kidney and flaky pastry

A traditional dish with a British twist. These Ploughman's pies are sure to go down a treat at any party this year!

British food enthusiast and celebrity chef, Ed Baines, is a well known connoisseur of British food so we're delighted to have his secret recipe for steak pie!