Ed Baines' steak pie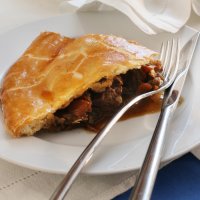 British food enthusiast and celebrity chef, Ed Baines, is a well known connoisseur of British food. So when Tabasco asked him for a traditional British recipe he was more than happy to indulge them with a few of his secrets!
What you need:
3 ounces of lard
500g short crust pastry
16 oz of beef rump steak or stewing steak cut into 1inch cubes
2 level tablespoons of flour
1 tsp celery salt
2 carrots finely chopped
2 small onions finely chopped (large onions are tasteless)
1 small bunch of parsley finely chopped
400ml of Guinness
250ml beef stock
2 medium sized tomatoes (finely chopped and salted)
1 tablespoon of malt vinegar
2 tsp Tabasco sauce
2 x 85g tins of smoked oysters in sunflower oil
1 egg (beaten)
What you do:
Lightly grease a 10 inch enamel plate (or pie dish) with lard. Roll out the pastry (enough to line the enamel plate and to make a lid for the pie) place the lid on a separate plate and put both in the fridge to rest.
In a large casserole pot heat 2/3 of the lard until smoking. Add the beef and fry until lightly browned, add the flour and the celery salt, brown for a further 2mins and remove.
Now add the chopped vegetables and the remaining lard and cook over a gentle heat for 5mins.
Put the beef back in the casserole, and add parsley, Guinness, beef stock, salted chopped tomatoes, vinegar, and the Tabasco. Cook over a low heat for 50mins, stirring every 10 minutes. Remove from the heat; pour onto a deep sided tray to cool. Pre-heat the oven to 170°c. Once the casserole has cooled gently fold in the strained smoked oysters.
Spoon the mixture into the pastry. Cover with the lid, pinch the edges.
Make a hole in the top of the pastry lid, and brush with beaten egg. Place in the oven, cook for 45-50mins. Remove from the oven, allow to rest for 5mins, and serve.
Cook's tip:
A traditional Victorian way of serving the pie is not to egg wash the pastry, remove the pie from the oven after 35 mins of cooking, cover the pie with a flat baking tray and flip the pie upside down onto the baking tray. Increase the oven temperature to 190°c, brush what has now become the top of the pie with beaten egg and cook for a further 10mins. Finally slide the pie off of the flat baking sheet onto a serving plate. This now resembles a flying saucer shape. The pie is served with mash, gravy and greens.
This page can be found at: http://secretsauce.co.uk/meat-poultry/pie-recipes/ed-baines-steak-pie/
A short link can also be used: http://bit.ly/qeznkM
Skandi Candle
Pure soy wax candles in Flack Fig & Vetiver or Lemon fragrances - perfect for any dinner party or romantic night in.
Tabasco

Tabasco® Pepper Sauce, the world's most famous condiment, has been made in Louisiana, USA since 1868 with just three natural ingredients: fully aged red peppers, Avery Island salt and distilled natural vinegar. Additional varieties include a milder Green Tabasco® Sauce made from jalapeno peppers; Tabasco® Habenero Sauce – the hottest of the range and the smooth, rich smoky flavoured Tabasco® Chipotle Pepper Sauce. Tabasco® is available from leading UK supermarkets and independents across the UK RRP £1.45. For further information visit www.tabasco.com
Popular in pie recipes

A traditional dish with a British twist. These Ploughman's pies are sure to go down a treat at any party this year!

This recipe takes a little bit of time, but it's worth it for the deliciously tender meat, kidney and flaky pastry

A delicious chicken pie with a light, crisp pastry topping