Jill Dupleix's little egg & ham pies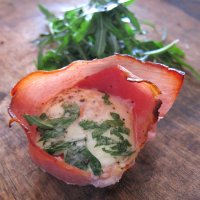 Ham and eggs always go wonderfully together and when snuggled up as a pie they're just perfection!
Preparation: 5 mins
Cooking: 20 mins
Serves: 12
What you need:
1 tsp olive oil or butter
12 large British Lion eggs
12 thin slices of ham, bacon or pancetta
Sea salt and pepper
1 tbsp roughly chopped parsley
2 tbsp grated parmesan
What you do:
Heat the oven to 180C/Gas 4. Lightly oil or butter each mould of a large-hole muffin tray. Line each mould with a slice of ham, letting it flop out at the top, then break an egg into each hollow. Scatter with salt, pepper, parsley and grated parmesan.
Bake for 20 minutes until the egg is set and starting to shrink away from the sides, and the ham is crisp. Remove from the oven and leave to cool for 5 minutes. Run a knife around each mould to loosen each pie, then remove to a wire tray. Eat warm or cold.
This page can be found at: http://secretsauce.co.uk/meat-poultry/pie-recipes/jill-dupleixs-little-egg-and-ham-pies/
A short link can also be used: http://bit.ly/nQzr1S
British Lion eggs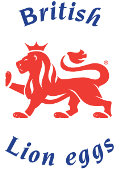 Look for the Lion on eggs to guarantee the highest standards of food safety. All Lion Quality eggs come from British hens vaccinated against salmonella and are date-stamped for freshness.
More from British Lion eggs

Celebrity chef Marcus Wareing's fantastic recipe for baked egg custard tart serves 8, but be prepared for it to only serve 4 because everyone will want a double helping!

Daniel Costello's Spanish baked eggs recipe was chosen by celebrity chef Paul Merrett as a winning recipe in British Lion eggs' Eggs Factor competition

A fantastic recipe for brunch - it looks decadent and you'll soon be wanting it every day!
Popular in pie recipes

This recipe takes a little bit of time, but it's worth it for the deliciously tender meat, kidney and flaky pastry

A traditional dish with a British twist. These Ploughman's pies are sure to go down a treat at any party this year!

A delicious chicken pie with a light, crisp pastry topping