Tom Aikens pan-fried sea bass with a herby butter sauce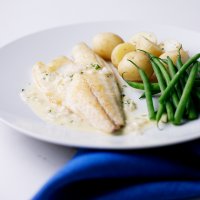 Tender sea bass with a sauce of shallots, cream and herbs - perfect for a dinner party or a romantic dinner for two
Serves 4
Preparation time: 10 minutes
Cooking time: 10 minutes
What you need:
For the pan fried sea bass:
4 fillets sea bass
1 tbsp plain flour
2 tbsp olive oil
For the herby butter sauce:
150g unsalted butter
200g banana shallots, peeled and finely diced
1 sprig thyme
1 bay leaf
250ml white wine
100ml white wine vinegar
100ml double cream
50ml lemon juice
1 tbsp chopped fresh chives
1 tbsp chopped fresh chervil
salt and freshly ground black pepper
What you do:
First, make the sauce. Heat 20g of the butter in a saucepan over a low heat and add the shallots, thyme, bay leaf, 2g of salt and 12 turns of a black pepper mill. Cook for 2 minutes, until softened.
Add the white wine and white wine vinegar and simmer until reduced by two thirds. Add the cream and simmer until reduced by half.
Whisk in the remaining butter, then add the lemon juice and check the seasoning. Remove the thyme sprig and bay leaf, then stir in the fresh herbs. Keep warm.
Heat the olive oil in a non-stick frying pan. Dust the fish with the flour, shaking off any excess. Season with salt and pepper and add to the hot pan, skin side up. Cook for 2 minutes, then turn the fish over and cook for a further 2 minutes. Serve with the sauce, some new potatoes and steamed green beans.
This page can be found at: http://secretsauce.co.uk/fish-seafood/sea-bass-recipes/sea-bass-herby-butter-sauce/
A short link can also be used: http://bit.ly/dM3PHh
Skandi Candle
Pure soy wax candles in Flack Fig & Vetiver or Lemon fragrances - perfect for any dinner party or romantic night in.
UK shallots
UK shallots are amongst the finest in the world with a uniquely mild, sweet flavour. Used for centuries as an important ingredient in both western and eastern cooking to add flavour, sweetness and piquancy, shallots turn savoury recipes into something really special.
More from UK shallots

Juicy lamb shanks with shallots, mint and harissa sauce create a fantastic Tunisian dish - just serve with couscous

Tender beef with the spice of chilli and the sweetness from sweet potato creates an exciting stew-type dish bursting with flavour.

Venison may be slightly unusual for a burger, but it tastes as good, if not better than traditional beef. So try something different tonight with this easy recipe.
Popular in sea bass recipes

Leek and onion is a fantastic accompaniment to sea bass, just add it to the pan with the fish - it couldn't be easier!

A delicious, authentic sea bass dish with a whole host of Spanish ingredients

Succulent fish fillets topped with melting Red Leicester cheese taste superb - especially when served with a delicious aubergine and tomato salsa