Malaysian beef, shallot & sweet potato redang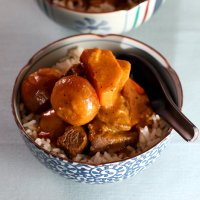 Tender beef with the spice of chilli and the sweetness from sweet potato creates an exciting stew-type dish bursting with flavour.
Serves: 4-6
What you need:
800g rump beef cut into cubes
3 tbsp sesame oil
3 tbsp vegetable oil
1 sweet potato, peeled and cubed
16 shallots peeled and left whole
4 cloves of garlic (crushed)
1 tbsp fresh ginger, peeled and grated
1 red chilli, seeded and finely diced
2 tsp turmeric
2 tsp ground cinnamon
1/2 cinnamon stick
1 tbsp Malaysian curry powder
1/2 tsp black pepper
4 lemon rind strips
250 ml thick coconut milk
125 ml beef stock
1 tsp sugar
Sea salt and black pepper
What to do:
Heat the vegetable oil in a heavy based saucepan and seal the meat in batches. Remove the meat from the pan and keep warm.
Add the sesame seed oil and the shallots to the pan and sauté for 2 - 3 minutes, then add the sweet potatoes, crushed garlic, ginger, turmeric, curry powder, chilli, ground cinnamon, cinnamon stick and black pepper and cook for 2 minutes making sure the spices are cooked and sizzling.
Add the beef, lemon rind, coconut milk and stock. Season well with the sea salt and the sugar. Cover and simmer for 1 hour.
If, after this time the gravy is not thick enough, then raise the heat and cook rapidly until the gravy has thickened. Serve with steamed Thai rice.
This page can be found at: http://secretsauce.co.uk/meat-poultry/beef-recipes/malaysian-beef-shallot-sweet-potato/
A short link can also be used: http://bit.ly/eShXZz
UK shallots
UK shallots are amongst the finest in the world with a uniquely mild, sweet flavour. Used for centuries as an important ingredient in both western and eastern cooking to add flavour, sweetness and piquancy, shallots turn savoury recipes into something really special.
More from UK shallots

Tender sea bass with a sauce of shallots, cream and herbs - perfect for a dinner party or a romantic dinner for two

Venison may be slightly unusual for a burger, but it tastes as good, if not better than traditional beef. So try something different tonight with this easy recipe.

Juicy lamb shanks with shallots, mint and harissa sauce create a fantastic Tunisian dish - just serve with couscous
Popular in beef recipes

Beef stew is the best winter warmer, slow cooked for two hours to make sure the beef is tender and has absorbed all the delicious flavours

This easy-to-make tasty meal is really healthy - helping you towards your 5-a-day. Make it with beef mince, or choose Quorn mince if you're vegetarian.

A delicious, quirky new twist on a homemade favourite!