Venison burger with blue cheese & crispy shallots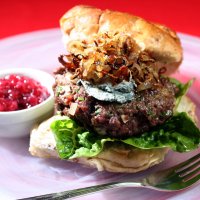 Venison may be slightly unusual for a burger, but it tastes as good, if not better than traditional beef. So try something different tonight with this easy recipe.
Makes 4 burgers.
What you need:
650g venison mince
5 tbsp double cream
2 cloves garlic, crushed
1/2 tbsp flat leaved parsley, chopped
1/2 tbsp chopped chives
4 crushed juniper berries
Sea salt and freshly ground black pepper
200g blue cheese
16 shallots
Olive oil for frying
What to do:
Place the mince in a bowl. Season well. Using your hands or a fork, gently combine the seasoned meat with the cream, garlic, parsley, chives and juniper berries. Do not over mix, as the cooked burgers will be tough.
Gently shape the meat into 4 patties, or divide the meat and push each portion into a 10cm pastry cutter to make 4 burgers. Make a slight indentation in the top of each with your fingers.
Divide the cheese into 4 and shape each piece into a ball. Insert the cheese into the centre of the burgers and pull the meat back over the top to seal in the cheese.
Peel and thinly cut the shallots into rings. Heat the olive oil in a pan, and fry the shallots until crispy.
Preheat a heavy ridged griddle pan or barbeque until very hot. If using a pan, put in a little olive oil, and sear the burgers to seal in the juices. Cook for 2 minutes on each side, so that the cheese melts in the middle.
Serve the burger on lightly toasted rolls, topped with the shallots, along with slices of tomatoes, red onion and pickled gherkin or with a green salad.
This page can be found at: http://secretsauce.co.uk/meat-poultry/burger-recipes/venison-burger-blue-cheese/
A short link can also be used: http://bit.ly/eiBuhv
UK shallots
UK shallots are amongst the finest in the world with a uniquely mild, sweet flavour. Used for centuries as an important ingredient in both western and eastern cooking to add flavour, sweetness and piquancy, shallots turn savoury recipes into something really special.
More from UK shallots

Tender sea bass with a sauce of shallots, cream and herbs - perfect for a dinner party or a romantic dinner for two

Tender beef with the spice of chilli and the sweetness from sweet potato creates an exciting stew-type dish bursting with flavour.

Juicy lamb shanks with shallots, mint and harissa sauce create a fantastic Tunisian dish - just serve with couscous
Popular in burger recipes

Mouth-watering home made burgers with an even more mouth-watering topping

These burgers will keep your family coming back for more - they're easy to make and delicious!

Try Phil Vickery's delicious turkey burgers and learn a trick of the trade from a celebrity chef!