Parsley salsa verde with lamb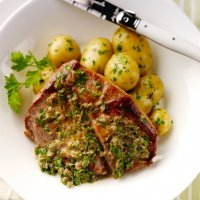 Lamb is often served mint, but have you tried it with parsley?
Preparation: 10 mins
Cooking: 10 mins
Serves: 4
What you need:
2 tbsp extra virgin olive oil
Zest and juice of 1 lemon
3 tbsp chopped fresh parsley, from a living pot of parsley
1 tbsp chopped fresh chives, from a living pot of chives
1 tbsp chopped fresh thyme, from a living pot of thyme
1 tbsp capers, roughly chopped
4 lamb leg steaks
What you do:
Mix together the oil, lemon zest and juice, fresh herbs and capers. Season well and chill.
Barbecue or pan fry the leg steaks for 4-6 minutes or until cooked to your liking.
Top the lamb with salsa verde and serve with new potatoes tossed with a little butter and chopped fresh, living parsley.
This page can be found at: http://secretsauce.co.uk/meat-poultry/lamb-recipes/parsley-salsa-verde-with-lamb/
A short link can also be used: http://bit.ly/Qrad6K
The Fresh Herb Company

The Fresh Herb Company, also known as VHB Herbs, is the largest producer and supplier of fresh herbs to the UK retail market. The Fresh Herb Company is running a campaign called 5 Ways with Fresh Living Herbs. This campaign aims to inspire people to keep pots of fresh living herbs in the kitchen so they can add healthy flavour to dishes quickly and easily.
More from The Fresh Herb Company

Atul is the only Indian chef to have two Michelin stars in the UK and is the head chef at the world renowned Benares restaurant, in London.

One of the most tempting dishes on a restaurant starter dish, so why haven't you ever tried making it at home?!

Chives are so compatible with seafood, particularly prawns. Try this delicious pasta dish and don't scrimp on the delicious fresh herbs!
Popular in lamb recipes

A taste of the middle east, perfect for a mid-week supper

Juicy lamb shanks with shallots, mint and harissa sauce create a fantastic Tunisian dish - just serve with couscous

You can't beat a baked dish for feeding the family - and this is one of the best, made easy for you with red and white sauces for lasagne.