Stir-fried Chantenay carrots with noodles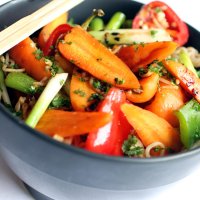 The soy-honey dressing is the perfect accompaniment to this easy stir-fry noodle dish
Serves 6
What you need:
2 tbsp vegetable oil
200g/7oz Chantenay carrots washed and cut in half lengthways
8 spring onions cut in 2.5cm/1 inch lengths
1 medium red pepper seeded and cut into strips
2 cloves peeled garlic chopped finely
1 dessertspoon peeled ginger chopped finely
1 red chilli chopped
200g/7oz cooked fine rice noodles
1/2 tbsp vegetable stock
A handful of fresh coriander chopped
2 tbsp dark soy sauce
What you do:
Heat the vegetable oil in a wok and stir fry the carrots for 3-4 minutes being careful not to brown them to much.
Cook until just tender then add the rest of the vegetables, garlic, ginger and chilli and carry on cooking for a further minute. Add the cooked rice noodles and vegetable stock and toss together. Add the coriander and turn off the heat.
Meanwhile, warm the honey, soy sauce and lemon juice together, taking care not to boil the dressing, and pour over the Chantenay carrot stir fry with the sesame oil.

Check the seasoning and garnish with freshly chopped coriander. Delicious with stir fried meat and chicken dishes.
This page can be found at: http://secretsauce.co.uk/pasta-rice/noodle-recipes/stir-fry-carrots-noodles/
A short link can also be used: http://bit.ly/f90Ndq
Chantenay carrots

Chantenay is a small sweet variety of carrot with crisp, orange flesh and a tender texture. Five Chantenay carrots count as one portion towards the recommended five portions of fruit and veg we should eat each day.
More from Chantenay carrots

A fantastic winter warmer with sweet Chantenay carrots, tender chunks of steak in a rich gravy with filling dumplings.

Leg or shoulder of lamb with sweet carrots and spring vegetables is a great Sunday dish, just make sure you've got a big helping of redcurrant jelly handy

If you love olives, you'll love this recipe and the good news is this rice salad's really good for you too!
Popular in noodle recipes

You can cook these prawn noodles in just 10 minutes, so no slaving over a hot stove for hours in your kitchen!

You may have tried sweet chilli sauce with a variety of meats, but have you ever tried it with crab meat? Make sure you're not missing out!

A delicious Thai dish full of flavour from the Orient, these prawn and tatsoi noodles are ready in just 10 minutes