Sophie Michell's pan-roasted duck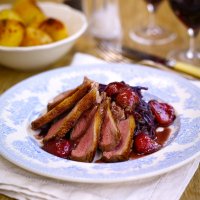 Sophie says: 'Duck pairs very well with fruity sauces and the Sweet Eve strawberries paired with red wine really makes for a comforting combination, perfect for autumn. The red cabbage with its light winter spices is also lovely. I suggest serving this with some rosemary and garlic roast potatoes.'
Preparation: 20 mins
Cooking: 45 mins
Serves: 4
What you need:
For the red cabbage
2 shallots
1/2 red cabbage (about 200g)
Olive oil
1 cinnamon stick
3/4 cloves
A grating of fresh nutmeg
100ml vegetable stock
For the duck
4 duck breasts
Sea salt and pepper
For the Sweet Eve strawberry red wine sauce
1 shallot
400ml red wine
100ml port
200ml chicken stock
100g hulled and halved Sweet Eve strawberries
1 tbsp butter
What you do:
Firstly prepare the braised cabbage - this can be done ahead of time and reheated if needed. Finely dice the shallots and finely shred the cabbage. Pan fry the shallots in a splash of oil until translucent, then add the cabbage and cook for a few more minutes. Add the spices and stock, then and then cover with a lid and braise for about 40 minutes on a low heat. Stir now and again and season at the end.
Next, preheat the oven to 180°C/350°F/Gas 4. Finely score the skin on the duck breasts with the tip of a sharp knife and season generously with salt and pepper.
Heat an ovenproof frying pan over a low heat and lay the duck breasts, skin-side down, in the pan. Slowly cook the duck for 10-15 minutes, draining off the fat as you go, until the skin starts to turn crispy. Turn up the heat to brown the skin until crispy all over, then flip over the breasts and cook for a further 2 minutes. Transfer to the oven for 3 minutes, or until the duck breasts are firm to the touch but still quite pink inside. Remove from the oven, cover with foil and leave to rest for 10 minutes.
Drain the fat from the frying pan and in the same pan, add one shallot finely diced. Sweat for about 5 minutes, being careful not to burn. Add the red wine and port and reduce for 8 minutes. Next, add the stock and the Sweet Eve strawberries. Cook for about 10 minutes then whisk in the butter. Check seasoning.
To serve simply pile up some cabbage, arrange some sliced duck on top and finish with a good spoonful of the sauce.
This page can be found at: http://secretsauce.co.uk/meat-poultry/duck-recipes/sophie-michells-pan-roasted-duck/
A short link can also be used: http://bit.ly/1hGmUCO
Sweet Eve Strawberries

Sweet, juicy and plump, British strawberries are undeniably the taste of a good summer. Sweet Eve is a new variety of British strawberry. Packed with sweetness and flavour Sweet Eve is in season from June until October and it tastes like strawberries used to taste.
More from Sweet Eve Strawberries

Sophie says: 'I love making this as a celebration cake for special occasion - the layers of meringue with the fruit in between look very pretty.'

When it gets a bit wintry nothing beats a great crumble for dessert - it's sweet, crunchy and with a dribble of custard, perfect!

Strawberries, cream and a dash of cinnamon - the perfect pudding combination.
Popular in duck recipes

Lesley says: 'Tenderstem® Broccoli is perfect for stir-frying, it's rich in iron, vitamin C and folic acid. Roasting the duck on a rack with salt will ensure the skin goes really crispy.'

Impress your friends with this simple, but mouth-wateringly delicious dinner party dish